Personalized service delivered close to home grows business
Quality customer service is of upmost importance to Kim Uyen Nguyen, OD. "I hate walking into a doctor's office into a room of 20 people waiting, and no one even looks up at me," she says. "We treat patients like friends and family—how we (staff and I) would like to be treated." It's a philosophy that she's been following for years in terms of patient care since her 2011 graduation from University of Houston College of Optometry. She worked in a number of settings prior to optometry school—corporate, ophthalmology, private optometry practices—and upon graduating, knew that private practice would be the happiest place for her.
Being a new grad with lots of debts and no equity, it was difficult to obtain a loan; so she took on a sublease instead, saving her money with a plan to expand to a private practice. Dr. Nguyen started scouting locations out just a few years in. A top requirement was that it had to be a good neighborhood where she could raise her family. She was familiar with Richardson, Texas, from frequenting its parks, and when she was driving through the area to a friend's house, she noticed a lot of land for lease. She secured her spot in October 2014 and began the waiting game as the building itself had to be constructed before she could get started. The good news is that in the time it took to complete, all of the spots in the strip filled up and she's accompanied by great neighbors in a dentist, hair salon, boba shop and more. There's a lot of foot traffic passing by from parents who are walking their children to school.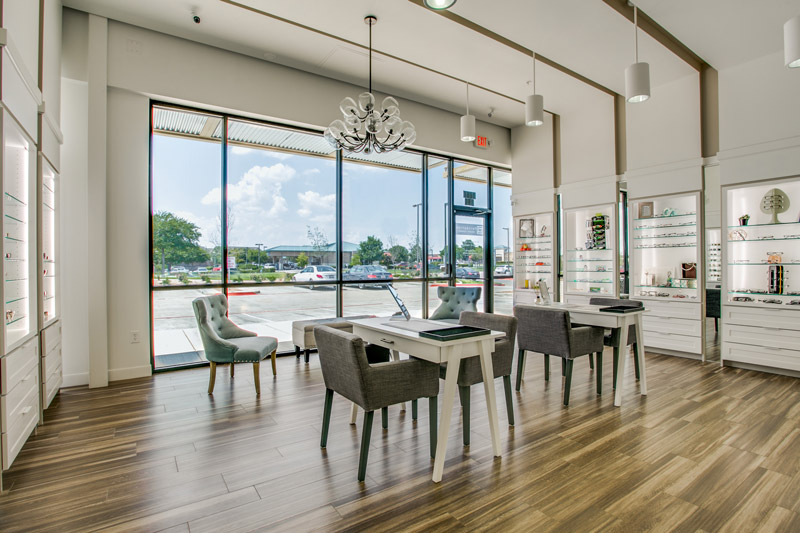 Dr. Nguyen consulted a friend who is an architect of luxury homes for help in designing the office space for Perception Eyecare and Eyewear. They used a combination of a high ceiling and other "perceptual" visual elements on the walls to create the illusion that the space is much bigger than it is. The optical has a boutique style with a clean look and lots of white. "I didn't want the space to feel and look like that of a typical doctor's office; I wanted a space that was homey and comfortable."
Doors opened to the office in May 2016, and two of Dr. Nguyen's staff member from her sublease made the transition with her, making it a total of five members today. "I hire for personality," she says. "Experience is great, but I hire people who are nice, who seem genuine and who care." The process often takes months, but the rewards are great. She involves her current employees with the hiring process. "I want to know what they think since they will be working together."
Dr. Nguyen also hired an associate in January 2019 who helped cover Dr. Nguyen's maternity leave, which began the next month in February. They still split patient care days; Dr. Nguyen sees patients on a part-time basis so that she can be at home with her son. The new location is about 15 minutes away from where her sublease office was, so she is grateful for those patients who followed her. . The office supports many local programs such as the PTA, sports teams and 5K race fundraisers. Often Dr. Nguyen and her staff will attend these events together, and their positive reputation in the community has continued to grow. The team is very involved in the community from volunteering at health fairs often, donating and volunteering their time to non-profits in the community. Having the ability to give back was one reason why she picked this career path.
Dr. Nguyen envisions another move once her lease is up. She's halfway through it now, and while she loves her office, she finds that she is already starting to outgrow the space. She advises her colleagues that it might not be a bad idea to go a little bigger than what you think you need. A larger footprint will not change the personalized experience. "When patients walk in, we know who they are and what we talked about last year," she says. "We make patients feel special with an exam that's catered for them."