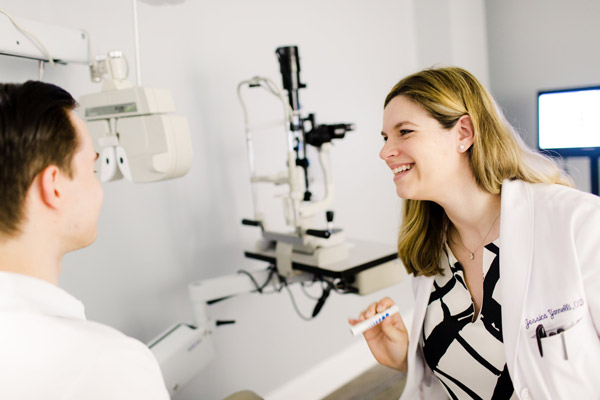 When Jessica Yannelli, OD, opened Precision Eye Care in Downingtown, Pennsylvania in 2014, an optical shop owner in nearby West Chester noticed. He approached Dr. Yannelli with an offer: spend a few hours a week offering optometric services in his optical. He figured it would help them both; as she was building her primary business, he'd be able to bring more services to his customer base. She loved the pedestrian-friendly community of West Chester, too, with its shops and restaurants in a neat downtown.
Late in 2017, the optical shop owner mentioned to her that he would be unable to renew his lease. "It was a casual conversation, and we talked about a transfer of ownership," she says. "Expanding was something that had been on my mind for years, and I decided that it was time."
Dr. Yannelli couldn't stay in the optical shop's former location, so a few months after that conversation, she began her search for a new location in January 2018. "I knew I wanted to be in the same town and on one particular street, so that was a challenge," she recalls. "It's a great community hub with visibility and accessibility for new patients, and I wanted to be nearby for our current patients so it was easy for them." One space was snapped up before she even had a chance to view it, but the leasing agent was able to show her a perfect spot that hadn't even hit the market yet. She jumped at the opportunity.
In May, the former optical shop reopened as Precision Eye Care West Chester. "I couldn't have done it in such a tight timeline if I hadn't done it before," she says. "There are a lot of logistics to figure out first." Several years earlier, she converted the former Downingtown Chamber of Commerce office into Precision Eye Care. Her choice then was driven by location: "It's a growing area with lots of families," she says, and it allowed her practice close to home and her children. After considering spaces in medical complexes or villages, which are popular near her, she ultimately found the right place along a main street with parking in the back. She turned the office into a "fresh but comfortable space—modern, bright, warm and friendly," with grayish blue walls—Silver Lake from Benjamin Moore—and grass-cloth feature walls throughout the space.
The new West Chester site had a good layout to start with. It had previously been a jewelry store, so only a few new walls were needed. "Aesthetically, my two practices have a similar vibe, but I did try to adapt to this neighborhood which is a little more modern and edgy," she says. Downingtown is a traditional suburban neighborhood, where West Chester is a college town with students, young couples, baby boomers and empty nesters. "I wanted to pick up on that flair and feel, but you can tell it feels like Precision Eye Care." She compares that crossover experience to that of visiting a luxury car dealership.
Dr. Yannelli says that she envisions building upon the primary care foundation and letting the needs of each patient base establish the specialty care areas she will provide. She established the two offices as separate corporations, a strategy that she says requires a bit more work on the front end but is more valuable down the road. "I did this for long-term clarity of value and performance metrics." Dr. Yannelli spends a full day in each practice and splits the remaining days between the two locations.
She continues to focus on growing each of her locations. "One of the potential pitfalls of new locations is availability," she says. "Even if doctor is not there every minute, your doors have to be open in case someone might want to walk in to make an appointment or need a service or material." She keeps a full-time staff member in the office and has another team member to help with the workload when she is in. "People grab on to that full-time presence and consistent hours."
Dr. Yannelli just added a new baby to her family this summer, so while she's cutting back on her hours for now, she's hoping to add more doctor hours with an associate doctor in her West Chester office. And she's not ruling out the potential for further expansion in the future. "I would never close the door on more locations," she says. "We could build from our great team of professionals and expand our presence. It has to be the right opportunity at the right time."