Earlier this month, Catherine Heyman, OD, FAAO, officially stepped into her role as founding dean for the High Point University (HPU) School of Optometry in High Point, North Carolina. It's a bittersweet transition, she shared with Women In Optometry, as she prepared to leave her role as associate dean of student affairs and associate professor at Southern California College of Optometry (SCCO) at Marshall B. Ketchum University. She had been with SCCO for her entire career after earning her optometry degree there in 1993.
"This is a great opportunity to reimagine myself and optometric education," she says of her move to a new school and new coast. "I'm hoping to find some folks who want to do the same thing and are passionate about making this school a premier East Coast school."
Dr. Heyman says that she had always envisioned herself as dean at SCCO, but the opening at HPU was appealing and worth considering. The university is undergoing a large expansion as it adds an optometry program and other graduate offerings such as law, nursing, entrepreneurship and dental medicine. She discovered how the school's mission and values aligned with her own and were based in the Methodist Church, which is how she was raised. She also was intrigued by the method of experiential learning at the school, where students are involved in experience-based learning in addition to laboratory experience. "For the pharmacy students, there are practice/testing rooms designed like a hospital pharmacy where students are given a patient scenario and are able to practice in this real-life setting. For PA students, there are hospital beds with the rooms set up like a real hospital with simulation models for practice."
HPU also has a strong focus on teaching students about valuable life skills to help them be better prepared for life after school. "These skills are often what our students are lacking," Dr. Heyman says. "They don't develop enough grit and tenacity, and then they can struggle when navigating the rigors of life. I love that this is a focus and a principle part of the curriculum in all of the schools at HPU." These lessons directly translate to optometry students' future conversations with patients and their ability to establish strong doctor/patient relationships.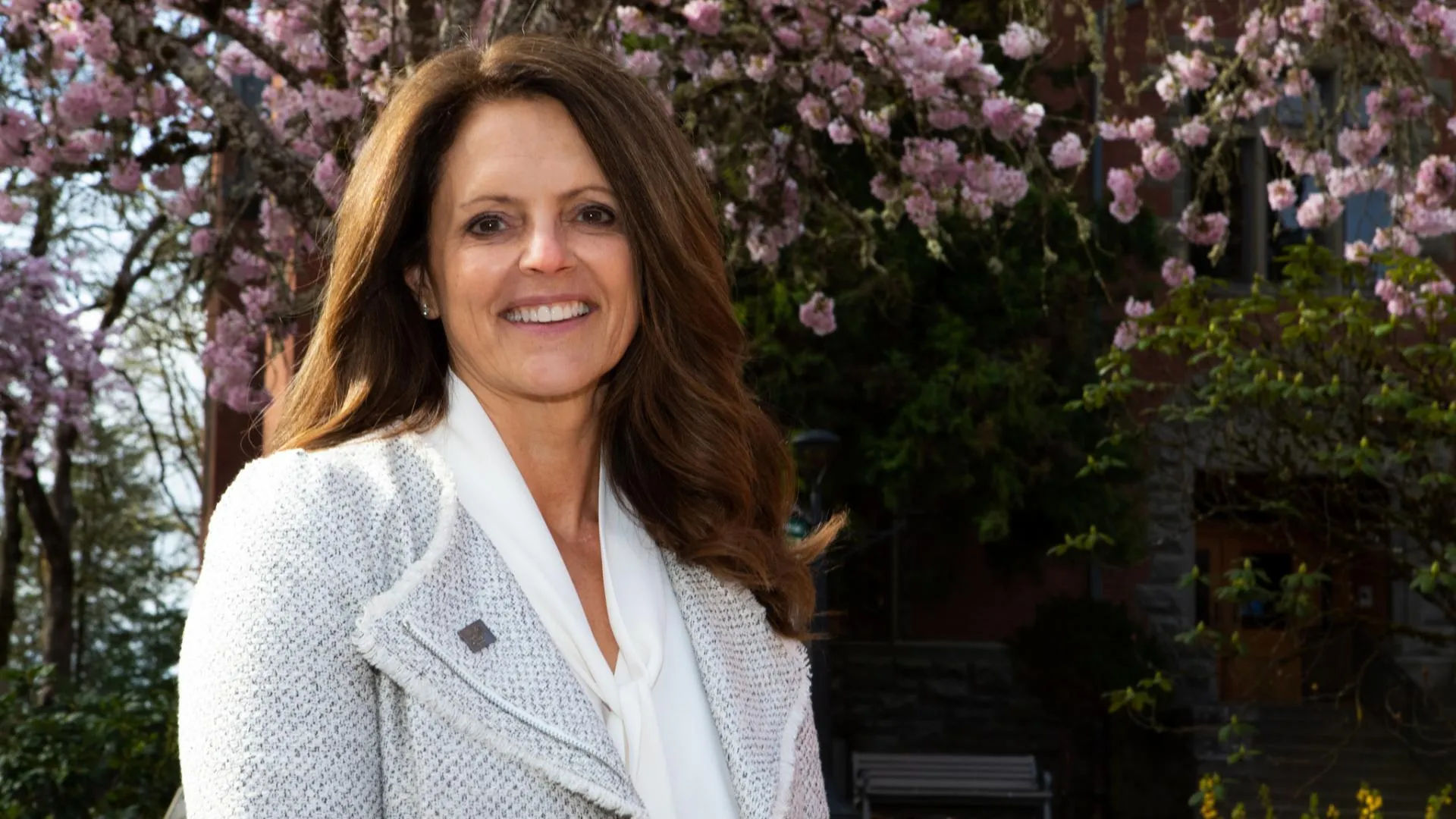 Dr. Heyman adds that she is thankful for the encouragement from colleague Jenny Coyle, OD, MS, who led her to apply for the founding dean position. "She's excellent at mentoring people and helping them find their bliss," Dr. Heyman says. When she was hesitant, Dr. Coyle told her to apply anyway; either way, it would be good practice at the application process.
The rest is history. Dr. Heyman had a successful first interview via Zoom, and then she flew out to meet with the other deans in May 2022. She says that from the start she felt a connection with the leadership team. "We already felt like a group," she recalls. She was selected as the finalist, and it was agreed that she would officially join the team about a year later in August 2023.
TOP OF THE AGENDA
Dr. Heyman has a full schedule leading up until the first potential incoming class, which is slated to possibly arrive in 2025. While still at SCCO, Dr. Heyman worked on the weekends to prepare for the process of regional accreditation with the Southern Association of Colleges and Schools Commission on Colleges (SACSCOC).
Now that she's made the move, she's also helping to finalize the curriculum, which will also have to be submitted for accreditation. "I'm really excited about building a curriculum that is very forward thinking," she says. As she explained in her presentations during the hiring process to the other deans, "I want to imagine where the profession is going and prepare our students for the practice of optometry in the future. Legacy schools are great and have so much tradition entrenched in how we educate, but this is an opportunity to completely reimagine what the schedule, programming and classes we teach look like." Dr. Heyman explains that she's not looking to get rid of the basics or important specialties such as vision therapy (VT) and vision rehab, but to also prepare students for dealing with the challenges of practicing medical optometry.
Dr. Heyman will need to hire a team, including a chief academic officer and additional faculty members, and oversee the groundbreaking and construction of the new optometry facility.
She's looking forward to networking and working closely with the North Carolina Optometric Society to gain the support of the local doctors nearby the school and across the state. "I want to make the school accessible, and so far, North Carolina organized optometry has been extremely supportive."
THE JOURNEY THAT PAVED THE WAY TO BECOMING DEAN
Dr. Heyman was majoring in zoology, but her volunteer hours with a veterinarian changed her mind about that career path. "It was dirty, and the animals didn't know that you were trying to help them," she says, laughing. "It just wasn't for me."
Her school counselor encouraged her to consider optometry, and through a connection with a friend, Dr. Heyman got a foot in the door through a multi-location practice that specialized in VT and low vision. "I loved the work, it was clean and professional," she recalls. She spent most of her time in the VT practice with children, and those experiences set the path for the rest of her career working with pediatrics and children with low vision and disabilities.
She found her love for academia during her residency, and she shifted her plans of opening a VT-only practice to working in private practices. She worked just one day at SCCO while her daughters were young, and once they were in school full time, she joined SCCO's faculty on a full-time basis. Dr. Heyman served in many roles including chief of the Low Vision Service, Faculty Council president and instructor of Record of the Clinical Methods I and II courses. She has participated on national committees and lectured nationally on topics of pediatric low vision and optometric treatments of patients with disabilities.
About 12 years ago, Dr. Heyman went into private practice in her hometown of Yorba Linda. She purchased the office from a doctor who had many health conditions, and her patient base was dwindling. "I built up the practice over the next eight years while working at the college full time," she says. After experiencing some staff turnover and taking on more responsibilities at SCCO, she ultimately sold the practice three years ago to a former SCCO student, a full circle moment. She's thankful for the lessons learned during that period of ownership. "It was good to be immersed in primary care again; it gave me a level of credibility with the students."
Check out more women ODs in academia here.
Have a story idea? Email us here.