For 15 years, Taylor Lam, OD, had been using a manual phoropter at Garvey Optometry in El Monte, California. However, the repetitive motion began to take its toll. "I was starting to feel fatigued in my shoulders and arms, to the point where I couldn't even lift up my arms to do a refraction anymore," she says. So when she attended Vision Expo in 2017, she stopped by to look at all the options for an automated phoropter system. She settled on the Reichert Phoroptor® VRx Digital Refraction System for several reasons.
Easiest for retinoscopy
The number one priority for any system was that it allow her to do retinoscopy. "The panel is bright, and the buttons are big. If I'm working in a darkened room, I would want a system where it's easy to feel and find what I needed," she says. She was so adamant bout the instrument's ability to do a reliable retinoscopy that she asked the doctor at the booth to perform one on her. "I was very impressed," she says.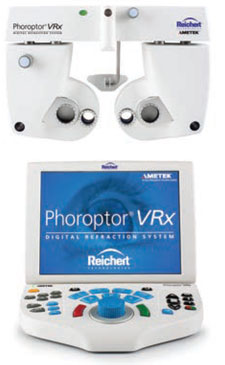 Dr. Lam ordered the Reichert Phoroptor, and it was installed in February. Despite her engagement with it in the exhibit hall, she was a little reluctant to switch over to a new system initially. She kept putting off learning how to use the system. But then her hand was forced—literally. Dr. Lam suffered a fractured elbow and she could barely raise the arm that had a cast on it. "So I started to work on the Reichert system with just one hand, and I began to realize that it really was easier and faster."
Now, she cannot imagine working without it. The Reichert Phoroptor VRx is in one of the two exam lanes—and that's the exam lane Dr. Lam now prefers. "I hardly ever go back to the manual system," she says. It has brought her efficiency and practice management advances, and it's brought her patients a higher regard for her practice.
Fast and smooth
Exams move more quickly for two reasons. First, the Reichert Phoroptor arrives at the prescription efficiently. But just as importantly, patients no longer ask her to slow down. The transition of powers is so fast and smooth that patients routinely say, "'Oh, this is much clearer.' Patients like this better," she says. It's less stressful for them, and they appreciate the technology. "I even tell them, 'Welcome to my new exam room where I have all this wonderful new instrumentation.' And they say, 'That's the reason we like to come to you.'"
Improved revenue from sales
With the toggle switch that allows her to show patients their current correction and the one she derived that day, patients can make an immediate decision and often choose the crisp, new correction. "They see the value of getting new eyewear," she says. Because the refraction moves more quickly, it leaves Dr. Lam with more time to talk about other products and services, or it leaves the patient more time to spend in the optical dispensary selecting eyewear. Most importantly, Dr. Lam says that she has time to educate patients about their eye conditions and the products that would be beneficial to them.
The support from Reichert is "phenomenal; starting with my rep and her manager all the way to management and technical support. Everyone in the company is so responsive," she says. Service technicians use Facetime to walk her through steps for troubleshooting, a system that she finds effective and highly efficient.
To top it all off, she's comfortable again. She can complete most of the exam seated, using the buttons and toggles rather than standing or stretching to adjust a manual phoropter. She's glad now that she listened to the aches and pains—because the Phoroptor VRx cured more than that.