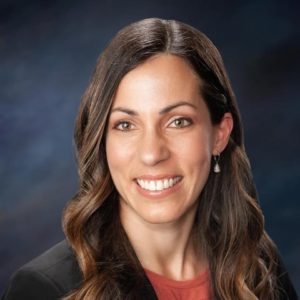 May is Mental Health Awareness Month, but Meagan Herring, OD, FAAO, CHHP, wants her patients and community to be "mindful" all the time. She's created her personal brand, Mindful Optometrist, where she blogs about topics like holistic optometry, eye strain, children's eye care and more.
"When COVID-19 hit, I was furloughed for six weeks, so I had time to focus on mindfulness. I took it as an opportunity to home in on how to meditate and live my life as mindfully as possible," she says.
That's not always easy. She's the wife of a Coast Guard flight mechanic, the mother of two boys – ages 5 and 7 – and her family is in the midst of a move to Alaska. In the not-too-distant future, her husband's frequent relocations will slow down, and she may be able to open her own practice. But for now, she spreads mindfulness where she can.
"I like to offer holistic eye care services as a solo or adjunct therapy. There was such a rise in stress during COVID-19. I saw seeing patients where I was nearly a therapist who talked to them about anxiety, breathing exercises, postpartum depression and more. With her functional nutrition background and as a certified holistic health practitioner, she can discuss patients' nutritional and lifestyle habits, as well as what the diagnostic technology she uses shows.
"As ODs, we can have a significant impact on patients' lives," she says. That started with her own. A few years ago, her blood pressure was high and she felt continuously stressed. "I felt like I needed to get a better hold on my mental health, so I joined a local group for fitness, exercise and meditation. As I was going through this myself, I realized it could help others."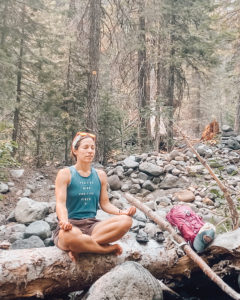 There are more tools available to help people today. She notes the proliferation of smartphone apps like Headspace or Calm. "They're empowering and offer challenges. If that's the easiest option for someone on the go, take it," she says. For those who can connect with therapists or support groups, that may also be an option. The important thing is to carve out some time each day to focus on yourself, she says.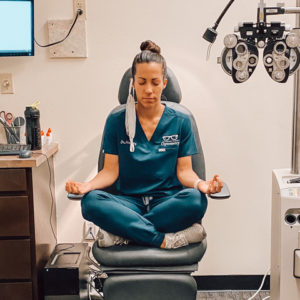 "Even before I get my coffee, I spend a few quiet minutes. You don't have to meditate in a traditional sense to be mindful. You can even do this in between patients. Place your hands on your desk surface or your lap. Then breathe. Breathing is a powerful tool."
LIFE'S SURPRISES
In some ways, Dr. Herring's life took some surprising twists. As a student at Nova Southeastern College of Optometry, she helped found the practice management association. She was so focused on making plans for her own independent practice, she served as the organization's vice president of finance and its president. But she met the man she would marry, and they have moved every three-to-five years. So she's taking the frequent moves in stride and seeing the opportunities as they come. "I wanted to stay home with the kids, so I'm able to do that and work part-time." And she's gathering ideas for her someday-practice, gaining experiences on how to incorporate holistic eye care in with traditional eye care.
"My true 'why' is to help other people with stress as it affects their eyes. I want people to think about how they are mindlessly staring at screens and how they use their eyes on a daily basis. When we become mindful with our eyes, we literally see things more mindfully," she says.
She anticipates that her three years on Alaska's Kodiak Island will also bring opportunities. She is personally investigating seasonal affective disorder as well as how full light spectrum exposure and photobiomodulation impact not only mental health but the mitochondria within the body's cells. A member of the Ocular Wellness and Nutrition Society, she will continue to study the impact of functional nutrition and diet on ocular and overall health. "I can see a place for life coach services and iridology combined with traditional eye care. The understanding of health and the science is changing as we broaden the horizons.
So what started as an effort to keep her own stress in check has blossomed into a creative outlet that has connected her with a network of colleagues and the desire to help more patients and colleagues achieve better physical, mental and ocular health – every month of the year.