Reyna Hernandez, OD, of Garland, Texas, says that her patients are as excited as she is about what's new in eye care. "People just love new things. Think about a brand new car. The look, the smell, everything about it is wonderful." Why not bring that same kind of enthusiasm to the practice?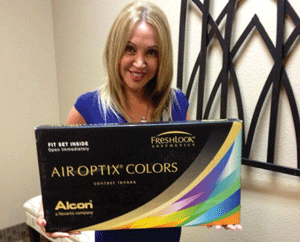 She looks for and embraces the new technologies, processes, and products that will work in her practice. "Every time we see a new product, I want to play with it," she says. In doing so, she can determine if it's going to be a good match for her practice. "I make that decision based on two considerations: whether it will help patients and if it will be financially feasible," she says. With an equipment purchase, the second part of the equation takes on considerable weight. An OCT, Optos technology, or even a new line of frames requires an investment with a decent return. However, some of that calculation is based on soft numbers. "For us, it's all about customer service. When patients return to our office every year, they are not coming just to have an eye exam. They want to know what the latest technology is—and we always have it," she says. But some additions have no significant acquisition cost, which means that the decision weighs more heavily on how much patients will benefit from it. "There are some products that you don't have to invest in financially, but they can increase your compensation. AIR OPTIX® COLORS contact lenses are an example. Antireflective lenses and Transitions® lenses are others. You don't have to invest, you just have to know the strategy."
Listing Her Priorities
Dr. Reyna Hernandez had a to-do list to implement right after her return from The Exchange®.
AIR OPTIX® COLORS contact lenses: Dr. Hernandez and her staff determined that the practice could be very successful with these lenses if all staff members and the doctors promoted them.
Fresh DayTM daily disposable lenses: "This was an easy lens to present to our population. We knew we had to make the commitment to promote this Vision Source® brand."
New marketing strategies: Dr. Hernandez and the practice staff learned more about using their electronic medical records system for marketing, as well as using the office Facebook page to promote products. They created a marketing calendar, designating open house-type events for the whole year, and gave themselves plenty of time for advertising.
The strategy, she says, starts with her own enthusiasm. "I can bring that enthusiasm to the staff. Then the staff brings it to the patient." She recommends relying on vendor representatives to help staff learn how to present new products to maximize the interest. The Vision Source® connection is a huge help, she says. "Vision Source® often gets priority when it comes to new product launches.
This idea extends beyond products to ideas for practice efficiency and management. She relies on her Vision Source® network of colleagues heavily for new ideas. "With Vision Source®, I feel that as doctors—we're completely spoiled. We get priority with so many new product launches because manufacturers want to bring their new products to us first," she says.
Not only do Vision Source® doctors become early adapters, they also share their knowledge about these new products. "If I know a colleague who has a product in his or her office, I'll call that person before I invest time and money in the product. Or I'll call to learn something new. For example, Mario Gutierrez, OD in San Antonio has a heavily Hispanic patient demographic, like mine. But he was doing wonderfully with daily disposable contact lenses and I wasn't. So I called him to get some ideas. There's a real comfort in knowing that I can call people like him, Moes Nasser, OD and Wiley Curtis, OD and they're going to pick up the phone and talk to me."
The monthly meetings of her regional Vision Source® group of doctors, as well as The Exchange®, are other sources for great ideas. "I write everything down, but I can't implement them all when I get back. So I look for the most important three-to-five things that I can start right away. Then I make other projects for the rest of the year." She frequently refers back to her notes from these meetings for inspiration for something new to try. "I love going to The Exchange® and just sitting at different tables, hearing what doctors from around the country are doing. Even during happy hour, you can get tips on practice management," she says.
When Vision Source® meetings are close by, such as a Practices of Distinction session or when The Exchange® was held in Texas, Dr. Hernandez brings her entire staff. Even when they're halfway across the country, she'll take her office manager and one other key staff member. "They come back with their own lists of new ideas to try," she says.
Balancing the responsibilities of life inside and outside of work can be a challenge or a joy or both
Dr. Reyna Hernandez recently brought on an associate, Ruby Rodriquez, OD, a pediatric specialist. To encourage families with children—yet keep some order in the reception area—the practice has designed Tuesdays and Thursdays as designated pediatric clinic days. Most parents are happy to have their children come in on days when the practice is particularly kid-focused.
"We have done a lot of promoting among the MDs. Once a month, Dr. Rodriquez will bring an awareness basket to the doctors' offices, and two weeks later, I'll do a follow-up visit. For new MD offices, we'll provide lunch for their staff," Dr. Hernandez says. The strategy works. "They know us, they have our cell phone numbers, and they're confident about sending their young patients to us."