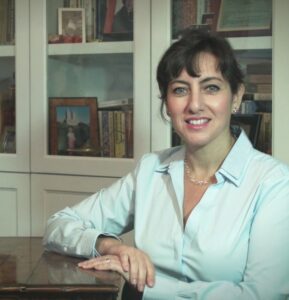 Viola Kanevsky, OD, is as likely to see infants as she is the elderly in her New York City practice, Acuity NYC. "Other than referring out for surgery, we do everything we can for patients," she says. "That includes a lot of custom contact lenses."
Because she has a reputation for being able to fit patients who are often categorized as "difficult," she gains referrals from other health care and eye care providers, as well as patients themselves. "Most of these patients have already failed somewhere else," she says, "so there's little point in trying to tweak a prescription for a lens brand they've already tried."
Often, the NaturalVue® Enhanced Multifocal 1 Day contact lens from Visioneering Technologies Inc. is her first and final solution. "With this lens, I can keep patients in a soft daily disposable, which they like," she says. But it brings new benefits.
"With the large diameter and steep base curve of the design, the lens centers well. Often, patients have an issue with a lens that decenters. A multifocal lens that decenters does not provide the patient with optimal optics, so the optics with NaturalVue are excellent," she says.
Plus, she can get the lenses to patients quickly, compared to a custom gas permeable lens for example. "My goal is to keep them in a readily available commercial lens whenever possible. I have patients who travel a lot, even internationally, and if they should need a replacement lens fast, this is one they can access," she says.
THE GROWING OPPORTUNITY
The demand for a multifocal lens that provides excellent comfort and great optics is growing across the spectrum.
First, the population is aging. The youngest baby boomers are already in their 60s and the oldest millennials are over age 40. So, the number of people who are entering or firmly in presbyopia is expanding. The older population often has high expectations for excellent products and enough disposable income where paying a small premium for the benefit of crisp vision makes this lens an easy yes.
Digital device demand is also driving the interest in multifocal lenses. "I have younger patients who do very well with these lenses because it eases their accommodative issues. With their long working or school hours and the focus on close work, this lens can help minimize the eye strain they feel," she says.
PATIENTS EXPRESS THEIR FRUSTRATIONS
Patients entering complaints help set the direction of the visit. Dr. Kanevsky has many patients tell her they cannot wear contact lenses anymore. But these patients typically fall into a few categories:
They've been trying their own solutions, wearing single vision lenses and finding reading glasses that help, make their situation work.
They've stopped wearing contact lenses because the ones they had been prescribed just weren't cutting it.
Another provider told them that they couldn't wear contact lenses.
Her first step is to assure patients that they can work something out. "I tell them that in my experience, 70% of patients do well with a multifocal contact lens, so we'll try that first. The next step is monovision, and the last-resort scenario is pairing single vision contact lenses with the appropriate, stylish reading glasses." In other words, as a specialty contact lens provider, she has a contact lens solution that will make the patient happy.
When she starts with the multifocal lens, she also sets the patient expectation. "I'd expect a multifocal lens to work for at least 80% of your daily tasks. If you're at dinner in a dimly lit restaurant, you might need your cheaters or some extra light to read the menu, and that's ok" she tells them. That way, when they run into one of those situations where the vision isn't optimal, they'll remember her words and realize this is one of those circumstances.
MORE THAN A PROBLEM-SOLVER
While the NaturalVue Multifocal is certainly a problem-solving lens for presbyopes, it has wider applicability.
Dr. Kanevsky says it's her go-to for the following candidates:
Young people with accommodative issues
Any patient who has been unsuccessful with another multifocal lens. "The NaturalVue Multifocal has a unique design because of the pinhole optics. If people with alternating zone designs find that their distance vision is blurry, this lens often provides them with fantastic vision." The center-distance design is unique among daily disposable options, so it allows her to utilize a different design approach.
Patients with high demands for distance vision. These might include people who drive at night, and younger patients who play sports outdoors and require better long-distance acuity.
Because it is not a silicone hydrogel lens, it's a great option for patients who have developed giant papillary conjunctivitis from the stiff, high modulus edges of silicone lenses. Plus, it's very comfortable, she says.
Dr. Kanevsky encourages her colleagues to address patients' accommodative fatigue even before they become presbyopic. "Years ago, we used to think that between the ages of 21 and 40, there was more leeway for patients with stable refractions if they didn't come in for an annual eye exam. Now, with everyone staring at screens for hours each day, even when I see healthy emmetropic patients in their 20s, they're still complaining of fatigue, accommodative issues, headaches, or dry eye. There's nothing that says we have to wait until a patient is fully into presbyopia before we recommend a multifocal lens.  Patients who are accommodating for 10-12 hours a day on devices can benefit right now." NaturalVue Multifocal is a lens that can help patients at all ages.
MKT-NVVEM-AP11
Disclaimer: Dr. Kanevsky was compensated for her time in preparing this article.
Read more stories with ODs having success with Visioneering Technologies and NaturalVue lenses.