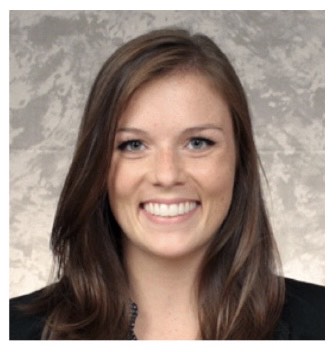 Kelsey Hanke, OD, remembers her childhood-self standing "with her nose against the glass" as her father received LASIK. That was an indication of her early interest in ocular anatomy and function. Now she feeds her passion for the care of such a "tiny organ" every day at her practice, Hanke Optometry, next to a Walmart Vision Center in Middletown, Ohio.
After graduating from The Ohio State University College of Optometry, Dr. Hanke found herself considering her career path. She originally had "misconceptions" about the world of corporate-affiliated optometry and thought the options were limited to employed OD positions. When she realized that Walmart offered the opportunity for leases for independent practices, that was a game-changer. "I tell people that I work with Walmart, not for them." She's been an independent optometrist in her current lease for just over two years and just signed a new one for another three.
MORE SUPPORT
Even though she runs her independent practice with the ability to do as she pleases, Dr. Hanke chooses to receive support and extra pairs of hands from Walmart. Dr. Hanke takes advantage of the ability to contract scheduled hours with opticians, technicians and billing associates employed by Walmart Vision Center, so she doesn't have to worry about hiring her own staff.  Although she enjoys the efficiency of this model, Dr. Henke appreciates the flexibility to bring in a technician of her choosing as well.
MORE OPPORTUNITY
Less paperwork on her plate means more time to focus on enhancing her practice, too. Dr. Hanke provides visual field and pretesting for patients with updated equipment, and she recently acquired a fundus camera/OCT scanner. Those efficiencies allow her to focus on optimizing the patient experience with the staff and equipment she has or wants to add in the future. "The technology in my office allows me to provide an excellent eye evaluation and precise treatment for my patients," she says.
Best of all, she says, she is able to achieve the work-life balance she wants. She started her schedule at five days per week, but recently went to four days and slightly longer shifts, which works better for Dr. Hanke and her family. She and her husband are avid travelers and love to spend time with their "spoiled" cats, so that extra day off means Dr. Hanke can focus on patients in the office when she's at work and family time when she's home.
"I love that I am able to practice with freedom but can go home afterwards without a worry because I can focus solely on clinical care," she says. It's a great balance, she says. "I get to run an independent practice without the responsibilities most private owners experience, such as taking care of an office building space," she says. "I can do what I love best: focus on patient care."