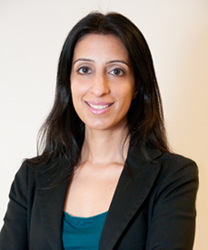 When Deeba Chaudri, OD, joined Luxottica in a Cole location soon after her 1997 graduation from Nova Southeastern College of Optometry, she told herself she'd stay for one year. She's still with the company—and can't imagine leaving now that she's made the commitment two years ago to become a sublease doctor at a flagship store in midtown Manhattan. Four years before, she had switched brands within Luxottica, moving from a Pearle Vision store to a regional director for LensCrafters, recruiting and hiring ODs and coaching them as they started with the company.
Today, her practice, Cosmopolitan Optometry, has five ODs, four of whom are women. She and another OD are full time, and the others are part time. That's essential in such a busy location. "We have seven-day coverage, with two doctors on five days a week. I work full time, Monday through Friday, but I like to have the doctors rotate," she says. Residents at the State University of New York State College of Optometry often take slots there, too, so that they can keep their clinical skills fresh, she says. Being right around the corner from SUNY is helpful, of course. New graduates who want to stay in the city can usually piece together a full-time schedule if they're willing to be flexible. "In Manhattan, there's an optical on nearly every block, but they may not all have an OD every day. But everyone wants an OD to cover on Saturday." So she likes to network with her contact lens representatives, through professional group dinners and through the students she knows to get leads on doctors looking for work.
In a way, what she's doing for her own practice now is similar to what she was doing as a regional director. "I learned to coach and motivate doctors, and I learned about how to create and articulate a vision. When you have specific aspects you expect—whether that's seeing a certain number of patients or meeting revenue goals or meeting service goals—you have to manage the people who work for you. It's a matter of coaching and reinforcing," she says. For example, she'll coach the doctors who work there to make sure they don't turn their backs on patients while entering data into the electronic medical record. That's not necessarily intuitive, so it's worth mentioning. She also likes to share her goals for the practice. "Are we dilating or are we doing Optomap images on all patients? It's not just about making a dollar, but if we saw 100 patients and only looked at the retinas for 50 of them, we're missing educational and clinical opportunities."
With such a busy location, the goal is to be consistent with patient care. "We can't be robotic, and I don't want to tell the doctors who work for me how to practice. But I do want the message to be the same because what doctors say to these patients reflects on me," she says. For example, 50 percent of the business in this location comes from walk-in visits. "We take appointments, but emergencies and walk-in visits are key. We try to accommodate everybody," she says. More importantly, the practice goal is to make sure patients don't wait for more than about 10 to 15 minutes. So that means that the staff and doctors need to keep track of where a patient is, how long he or she has been there and what can be done to minimize the wait time or at least explain any delay to the patient.
One-block Move Results in Big Changes
The LensCrafters flagship store wasn't new when Dr. Deeba Chaudri came on. "The last doctor had been at the fashionable Fifth Avenue location for 15 years, and it had a great local clientele as well as lots of tourists," Dr. Chaudri says. The store did move last year—just one block away. In Manhattan, a one-avenue change of address can have a big impact. "Sixth Avenue is more of a corporate Manhattan location. We're near the offices for the Food Network, HBO and many law firms. We are able to do different things as a result," she says. For example, she has appeared on The Dr. Oz Show to explain how a comprehensive eye exam can detect systemic conditions, such as high blood pressure.
The new location also has an entirely new design, with hardwood floors and a trendy orange-colored theme. "It's very different from the old Fifth Avenue carpeting. In Manhattan, people want nice, clean and trendy. LensCrafters takes care of everything; we have a beautiful contact lens area, and it's a much better work environment," she says. Working in affiliation with the flagship store, Dr. Chaudri says, "there's a huge emphasis on the exam experience. LensCrafters and other corporate locations are starting to put more of an emphasis on the doctor's role. It's more important than just coming in for a new prescription and more of an explanation of the precision equipment that the doctor has, too, to arrive at the best prescription."