This story was originally published in our March 2011 issue.
Alissa Nagel, OD, FAAO, of Las Vegas, is intrigued by the kinds of cases that puzzle others. Dr. Nagel's interest in not-so-usual cases began during low vision and ocular prosthetics classes at optometry school and continued during
her residency of ocular disease and geriatric optometry at the VA in southern Nevada. The specialty suited her. "Some people with visual impairments need emotional support," in addition to the clinical support doctors provide, she says. "Some of these patients have been told there's nothing you can do for them, and you can make a huge difference when they learn of options."
Certainly, the work has frustrations, but she says they pale in comparison to the positive experiences. In her area, she is the only OD who currently works with ocular prosthetics. Dr. Nagel feels that it is important for ODs to be involved in ocular prosthetics because ocularists aren't trained to preserve vision in a disfigured eye or recognize and treat an infection in the eye socket. Dr. Nagel does careful fittings for these types of devices, whether it's a shell or painted soft contact lens for a nearly blind or blind eye. Then she takes pictures and sends her initial information to have the prosthetic created. In addition, she sees these patients again for adjustments,
polishing and cleaning.
Dr. Nagel evaluates three or four low vision patients per week who are referred to her from other optometrists and ophthalmologists. She often starts by using a Feinbloom Low Vision chart to assess their aided and unaided distance acuity and a trial frame refraction to see if changing their eyeglasses may help. The exam becomes customized from this point on, as she
and the patient work together to achieve the patient's primary goals—most commonly to see well enough to read.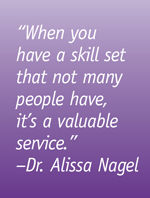 She tries several devices for a sustained near evaluation, such as high-powered spectacle adds, stand magnifiers or an electronic magnifier, and she also assesses devices for spotting near activities like reading a price tag or phone number. "Often those turn out to be a hand magnifier, something that's portable. But those devices are not as easy to use for a long stint of reading," she says. "Depending on the patient's visual goals, we may try distance telescopes to improve distance vision." She always conducts a glare filter evaluation because many retinal conditions cause patients to be sensitive to glare or lose contrast. "The right color filter can improve their comfort and help them distinguish objects from the background more easily," Dr. Nagel says.
If she thinks the patient will benefit, she may refer him or her for mobility training, counseling or driver's rehabilitation. Once the patient's needs are met and he or she can properly use the devices Dr. Nagel recommended, the patient returns to his or her referring doctor. "The patients are always welcome to return to our office should their vision change and they need to be re-evaluated for other devices or power adjustments," she says.
Dr. Nagel's reputation in the practice scores her one referral after the next, but her reputation in the community—and outside of the exam room—is just as solid. "When you have a skill set that not many people have, it's a valuable service. It's important to give your time, in your specialty, to the people around you," Dr. Nagel says.
In January Dr. Nagel held a low vision technology open house to educate the public on visual impairments and the latest technology available to help them overcome their disability. She has also been asked to lecture about the kind of lighting that is best for the visually impaired and provide suggestions that can improve lighting in their homes.
Recently, Dr. Nagel gave her time to the VSP Mobile Eyes® Program when the mobile clinic was in town to help the North Las Vegas Boys & Girls Clubs. "I was really impressed. With the full lab, we could give most people their prescription when they left," she says. "A lot of effort went into this event, and you could tell it wasn't just thrown together. It was a very quality experience."