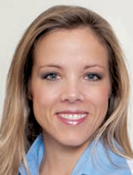 In early 2013, when the University of Houston opened the doors to its Health and Biomedical Sciences Building, the Dry Eye Center (DEC), which was established several years prior, found its permanent home. DEC Director Amber Gaume Giannoni, OD, FAAO, says that the decision to establish it was pushed for by several members of the faculty and administration in the University of Houston College of Optometry (UHCO). They felt they should be on the cutting edge, offering specialty services that weren't available elsewhere on a routine basis.
"When a patient has a severe case of dry eye disease, it's an obvious problem-focused medical exam, but there are many mild cases that go undetected or unaddressed," Dr. Gaume Giannoni says. "Perhaps the patient is already self-treating so clinical signs are masked, or there are more pressing issues to tackle at the time of the exam. An artificial tear sample might be given with the patient being asked to return if it doesn't help. With the decision now solely in the patient's hands, a follow-up visit is never scheduled because the patient feels better, but meanwhile, the disease progresses."
This is a mindset that Dr. Gaume Giannoni is trying to change, even as the care delivery paradigm is shifting. "I explain to my students that they may not be able to meet all of their patients' needs in a single visit, nor should they be expected to. It is important to be able to identify dry eye during an exam, but it's OK to reschedule the patient for a medically oriented visit to address the issue specifically on another day," she says. Additionally, Dr. Gaume Giannoni teaches that requiring follow-up visits is paramount to monitor for disease progression, regardless of whether the patient feels better.
Dr. Gaume Giannoni points out that dry eye disease is a chronic, progressive condition with no cure. She emphasizes to her students that early detection and intervention can make a life-changing difference for that patient. "By the time a patient experiences symptoms severe and constant enough to voice a complaint, he or she may have had five or 10 years of disease progression. It's imperative to screen for dry eye whether a patient has symptoms or not, especially if risk factors are present." She relates this to general medicine. "MDs are expected to detect elevated cholesterol and hypertension early. By the time a patient has symptoms, the disease has a strong foothold and permanent changes may have taken place that cannot be reversed. The same is true for dry eye," she says.
"Eye care practitioners are often concerned that their dry eye patients will be upset if asked to return for frequent follow-up visits," Dr. Gaume Giannoni says. "I've actually found the opposite to be true. These patients are suffering from the moment they wake up to the moment they go to bed and are happy to have found someone who takes them seriously. It's easy to require multiple visits for conditions like glaucoma because everyone recognizes the risk for significant vision loss, but we often underestimate the significant impact even mild dry eye can have on daily life. Patients want relief and are quite willing to do what it takes."
Dr. Gaume Giannoni understands the challenge for practitioners who are expected to see multiple patients an hour. "Managing a dry eye patient can be frustrating and time-consuming because the disease itself is in constant flux. In the DEC, we're able to spend 60 to 90 minutes with a single patient, which just isn't possible in most traditional practices." even so, she says that there are ways to work dry eye care into the schedule. Perhaps it's a matter of setting aside a few appointment slots one morning per week for dry eye-focused exams or taking a couple of appointments before the optical staff arrives, for example.
The DEC has created a loose protocol for initial dry eye evaluations. "We conduct a full medical history along with a symptoms questionnaire. The rest of the examination is guided by this information and could include an assessment of tear film osmolarity, inflammatory markers, tear production, stability and/or infrared meibography."
The DEC at the UHCO is gaining attention from other medical providers, she says. referrals are coming in from primary care physicians, dermatologists and local rheumatologists who send patients with dry eyes related to autoimmune disease. They even have patients who travel in for care from other countries. "Helping these patients is extremely rewarding. Some have been suffering for a long time and are especially thankful for the care we are able to provide," she says.