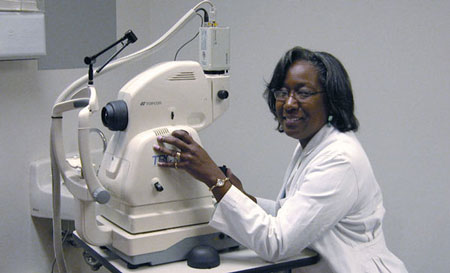 Jacqueline Davis, OD, MPH, who will be honored as the American Optometric Association (AOA) Optometric Educator of the Year at Optometry's Meeting, says that she loved her 22 years in private practice, but joining the Ohio State Board of Optometry gave her "a different viewpoint of the profession. I saw that I could have an impact on more than one patient at a time through policies and procedures."
This new perspective led Dr. Davis to expand her career and responsibilities in different ways, connecting with colleagues to make change in their state and also by starting an outreach clinic for The Ohio State University College of Optometry in 2002. Eventually, she sold her practice to a former student. Under the guidance of mentor Melvin Shipp, OD, who was dean, Dr. Davis went on to earn her master's in public health in 2009.
Dr. Davis says that she hopes her students' involvement with federally qualified health centers will impact their careers the way it did for her. In fact, a survey she conducted during her graduate studies confirmed that "more than double the number of doctors who had experience and exposure to outreach activities through school participated in outreach while they were in practice," she says, compared to doctors who were not involved during school. "That was resounding. We thought that if we provided this kind of education that they would continue outreach, and this study proved that they actually do."
Dr. Davis also teaches two courses at the college; is co-advisor of the university's National Optometric Student Association chapter; and is involved with Improving Diversity in Optometric Careers, the annual three-day summer camp for under-represented minority undergraduate students.
Extremely grateful for the accolades from AOA, Dr. Davis says, "I am so honored that they consider my work valuable. I hope other folks will consider doing some outreach, no matter where they are in their career."