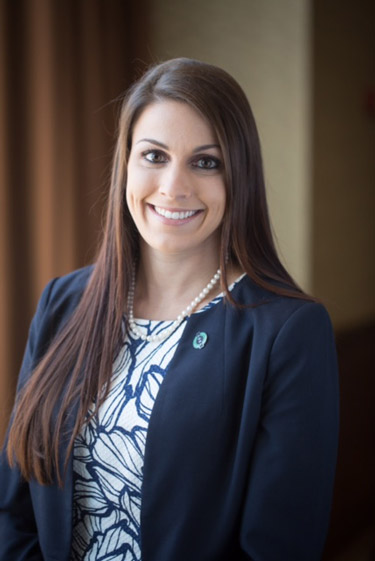 "I walked into an optometrist's office one day with an eye infection and walked out with a job." That's how Lauren Fereday, OD, MS, describes her decision to become an optometrist. "I was a technician and research assistant for an optometry/ophthalmology practice for a few years as an undergrad and worked for that practice full time during graduate school. I loved getting up to go to work every day and thought this would probably be a good fit for me." Today she's part of the team at The Classical Eye in La Jolla, California, and Optique Del Mar in Del Mar.
After graduating from the Massachusetts College of Pharmacy and Health Sciences University School of Optometry, Dr. Fereday was a summer intern at Essilor of America where she saw how the company's mission of improving lives by improving sight translates into
industry-leading vision solutions. "I loved learning more about products. In school, we don't spend a lot of time in the optical, so you don't really understand the products. Now when I talk to my patients about their vision issues, I know I can recommend something to fix them."
One product Dr. Fereday is especially enthusiastic about is Essilor's new Ultimate Lens Package, a combination of Essilor's most innovative lens technologies, designed to meet each eyeglass wearer's visual needs with the company's ultimate in vision, clarity and protection in a single lens. The Ultimate Lens Package includes Varilux® X Series™, Crizal Sapphire® 360° and Transitions® Signature® VII for progressive lens wearers, and Eyezen+™, Crizal Sapphire 360° UV and Transitions Signature VII for single vision patients.
"I'm really excited about it. If there's something that I'd recommend to my own family, then I know it's going to be easy to recommend to patients."
An opportunity to help students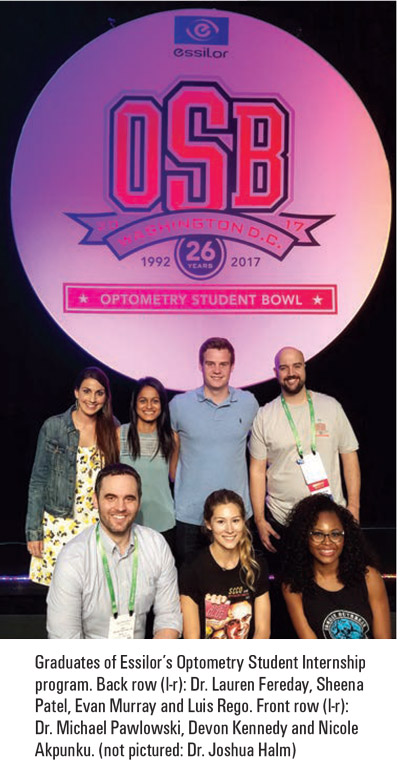 While at Essilor, Dr. Fereday worked on building out the student section of the ECP University website. ECP University provides training for all practice roles and experience levels, and is available to any independent eye care professional. The student site launched in October and will include the following:
• Get Fit with Essilor: This lens sampling program allows second-year optometry students to get free samples of either the single vision Ultimate Lens Package or Xperio UV™ polarized prescription sun lenses. "Get Fit is a great opportunity for students to try Essilor products and feel more confident recommending these products to their patients," Dr. Fereday explains.
• New England College of Optometry Business Simulator: This tool lets students see how their business decisions would play out in the real world. It's administered by the New England College of Optometry and is available to a number of optometry schools and colleges.
• Welcome to Practice: This section contains resources needed for opening a practice including training, equipment, accounting and marketing.
• Essilor Optometry Student Bowl: Held annually during Optometry's Meeting, the Essilor Student Bowl is always a highlight of the event. This site will house all the details about the highly anticipated student competition.
An internship with long-lasting benefits
"My summer internship benefited me in so many ways," Dr. Fereday shares. "One huge benefit was the chance to learn about the business side of optometry, since we don't really learn about that in school. Most students don't realize that it's an option to work in the industry. By interning at Essilor, I was able to try something I hadn't done before, learn about product options to help my patients and learn more about the business. It was also a great networking opportunity." Dr. Fereday adds that an internship can be especially beneficial for fourth-year students "because you'll have something to do with your knowledge while waiting for your licensing to come in."