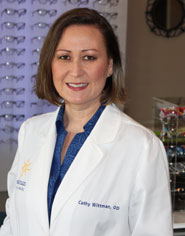 Cathy Wittman, OD, recalls that a conversation with a friend changed her perspective on naming her practice after its location in Lubbock, Texas. "She told me to name it after myself so my patients could find me," Dr. Wittman explains. When she chose the name Wittman Vision and opened its doors in 2014, Dr. Wittman hoped that patients who knew her from a corporate practice as well as a private practice where she had worked for much of the previous decade would join her in this newest chapter of her career. "I still have people finding me every other week," she says.
In 2008, while she was still working as an associate, Dr. Wittman bought the land for her own practice. During the recession that year, "we were dropped by our lender that was suspending all of its loans at the time," she says. She held off until 2012 and had secured a small business loan the following year. Dr. Wittman says that there were some bumps along the way, but finally her space was ready to move into by the end of April 2014.
"The timing is very fortuitous," Dr. Wittman says. In 2008, there were only a handful of houses in the area and no other commercial
or medical businesses. The community has grown to include several full residential developments with many potential patients and several other medical practitioners in her area. Her office exterior complements the local architecture with a traditional feel incorporating whole stones and bricks. "Our office fits right into the neighborhood."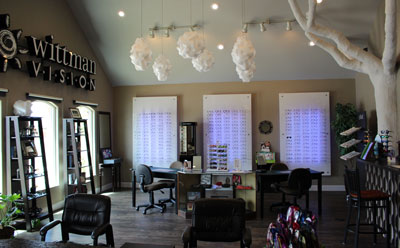 Dr. Wittman designed her practice to spend time with her family as well as provide thorough eye care for the community. Her husband, Greg Wittman, handles administrative responsibilities, and the two home-school two of their children on the premises, using a small living area in the office and a classroom they created in part of their in-house lab. Dr. Wittman explains that since one of her sons is on the autism spectrum, she prefers to customize his learning plan, and her youngest son asked to be home-schooled after seeing his brother's experience. "I love having my family here," Dr. Wittman says. "It's really unique from a practice perspective."
Dr. Wittman also envisioned fulfilling needs in the community with many specialty services. For example, her vision therapy (VT) segment is growing by referrals of those whose own or children's lives have been changed. One patient was able to stop taking
medication for attention-deficit/hyperactivity disorder. "She blossomed in our program, and her visual issues were re-mediated," she says. Other students have improved their sports performance through specialized vision therapy. Dr. Wittman hopes that growth in this area will allow her to expand her building to create a designated space for VT.
"The practice evolves and grows in a way that you don't expect," she says. So she has made adjustments, liquidating some of the
equipment from under-performing sectors of the practice to invest in more VT equipment and explore other areas. "The disease part
of the practice is very strong," she says. Dr. Wittman spent four years working in the ophthalmology department at Texas Tech University."It was a great experience where I was exposed to so much pathology, and I had the opportunity to work with residents and lecture," she says. She transitioned to the department of educational psychology and leadership, and now she teaches anatomy and functions of the visual system, a web-based course designed to train teachers of visually impaired, mobility specialists and also teachers of the deaf and blind.
Now in her second year of practice, Dr. Wittman says that she has met her projected growth expectations. "There's a certain amount of growth we want to see, but my priority is my family and keeping my employees happy." The schedule is light by design to focus on the patient experience, and she's carefully monitoring growth and staffing to keep payroll and equipment expenses under control.
Dr. Wittman says that she enjoys sharing experiences and exchanging ideas with colleagues who are passionate about practice
ownership and making their dreams a reality. Her best advice: "Have the perseverance of a bulldog. When you take on a project like this, you will have lots of hurdles to overcome. There will be times when it's hard, but keep putting one foot in front of the other. If you really want it, don't quit."
Click here to read more about Dr. Wittman's experience designing her office space and her best advice for her colleagues doing the same.