Through many facets of her career, OD brings pediatric eye care front and center
The late Robert L. Johnson, Sr., OD, MS, FCOVD, and the late Henry R. Moore, OD, started the not-for-profit Plano Child Development Center (PCDC) in 1959, creating greater access to vision therapy for patients who could not afford it. As executive director of PCDC, Stephanie Johnson-Brown, OD, MEd, continues her father's legacy in Chicago. "I hope to keep the practice in the community as a model for new practitioners showing how you successfully can serve patients of all socioeconomic levels and cultures," she says. She and her practice partner Joseph W. McCray, Jr., OD, have done just that since graduating from Illinois College of Optometry in 1978 and 1975, respectively.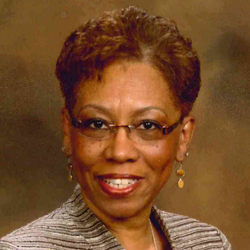 Even though Dr. Johnson-Brown started working in her father's practice as a senior in high school, he never pushed her toward a career in optometry. He encouraged each of his six children to explore his or her own path, but of course, he was extremely supportive and proud when he learned that his daughter wanted to follow in his footsteps, she says. Dr. Moore encouraged her also after observing her assisting with vision therapy. "My experience working in vision therapy is what sold me on becoming an optometrist," she says. "It was so rewarding at such a young age to have the chance to see lives changed."
In more than 50 years, the PCDC has provided vision therapy and vision care to more than 1 million patients, including 750,000 children, experiencing vision skills problems.
Dr. Johnson-Brown has a multifaceted professional career. She's currently focusing on strategies to increase growth and profits at her independent office, Plano Optometrics. "I need to make the most of my time there. We're working hard to become more efficient," she says. She's seeking her team's input on improving office processes for easier implementation. Dr. Johnson-Brown is also analyzing her lab partnerships to find ways to cut costs.
Dr. Johnson-Brown currently serves as president of the National Optometric Association. As she thinks ahead about the legacy she wants to leave with the organization, her inter- est is on pediatric vision. Her term ends in 2015, when children's vision will be the theme of the annual convention. "Children's vision is now an essential benefit in the Affordable Care Act, so we need to capitalize on this benefit to grow our practices," she says. "It's time to become more comfortable and experienced in this area of optometry."
Dr. Johnson-Brown also serves as a consultant for mobile vision care services for the Chicago Public School System. "My biggest challenge is changing the culture, getting the doctors to think more functionally about vision therapy referrals," she says.
Add Pediatric Care to Your Practice
"Offering pediatric vision care services in your practice is a smart move for business owners, and at the same time,
it satisfies a big need in the community by investing in our future and our children, especially during school age," says Dr. Stephanie Johnson-Brown. She suggests hiring an associate doctor with vision therapy training to increase the value of your practice and believes that pediatric vision care can be part of every primary care practice.