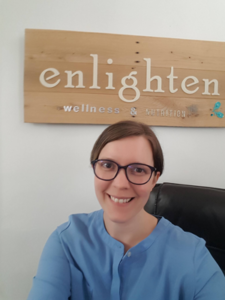 When Celia Futch, OD, of Enlighten Optometry found that she couldn't give her patients a comprehensive answer that met her standards, she went back to the drawing board. She knew many of her patients were on the road to developing chronic diseases, such as cataracts, age-related macular degeneration, diabetes and glaucoma, and she wanted preventive measures they could act on. "I started researching," she says. "We want to be as prepared as possible, and I thought an institution-based education would be the best way." What Dr. Futch found was a curriculum in human nutrition and functional medicine at University of Western States. Since COVID-19 and the anticipated January 2021 birth of her second child, she put her final push toward a master's degree on hold, although she has completed the core courses and 1.5 years of the program.
Now Dr. Futch has incorporated more counseling into her optometry practice; that start with these three main tenets; patient history, lab and genetic testing and, finally, a holistic, whole body approach.
ODs AS WELLNESS COUNSELORS
"Optometry is the doorway to health," she says. "Optometrists are well-prepared to be counselors. We're well-positioned to introduce patients to the individualized medicine approach." For example, "When I graduated from University of California at Berkeley School of Optometry in 2012, myopia management was around, but it hadn't gained traction. Now we're talking to patients about prevention, lifestyle issues and treatment approaches to slow down myopia progression and optimize long-term wellness."
Adding nutrition and an awareness about genetic predispositions is an extension of what many optometrists already do. "In optometry, we already get a patient history, but our histories are more static. Functional medicine is more of a timeline," she says. "Things develop over time. Maybe the patient encountered a trigger or new exposure, such as a big change in diet or a big move. These different points might have affected their health and help us see what their risk is."
Following the data-gathering, she offers lab and genetic testing. "The genetic test is more of an emerging field, but emphasis is placed on variants that are evidence-based. However, there is still much we do not know about other genetic modifications of disease," she says. She pairs the genetic testing with lab tests that correlate biomarkers – such as a vitamin deficiency.  She appreciates looking at all of this data together but counseling can occur based on just some of these elements.
She can also do this counseling remotely, which has been a bonus during COVID-19. The genetic test is based on a saliva sample, and the lab test requires a urine sample. Dr. Futch works with companies who send test kits to the patients directly. "I can stock and hand it to the patient who come into the office, or have the collection kit sent," she says.
GETTING TO KNOW YOU
When it comes to the holistic approach, Dr. Futch spends an hour or so in a thorough consultation with the patient to discuss diet, nutrition and lifestyle changes, and then she encourages patient to take their health into their own hands. "If you need any advice or trusted resources on how to implement the changes, or if you're struggling or having a reaction– please come back to me," she says.
"Genetics don't change," she says. "Those tests don't need to be repeated and generally lab tests do not need repeating either, unless something's not going to plan." She has found that the best litmus test of success has been the patient's own sense of wellness. "People can usually tell since we're taking a whole body approach," she says. "They say, 'Ever since I made those changes, I feel better and have more energy.'"
It's best to catch patients who are in the earlier stages of macular degeneration, dry eye, glaucoma and diabetic retinopathy, according to Dr. Futch who finds the treatments to be a motivation to avoid a certain disease process. She emphasizes that she encourages patients with diabetes to see a dietitian or diabetes educator for their nutritional consults.
The recommendation plans vary. "It could be nutraceuticals or lifestyle counseling. My first plan is to come up with the vitamin and mineral forms that best match the biomarkers," she says. After that, Dr. Futch and the patient examine the patient's dietary patterns, and then add or subtract from them. "There's certain foods to avoid and others to include," she says. Finally, they address lifestyle changes–a vast topic covering things from environment to exercise.
REFERRAL CENTER
Dr. Futch expects that not all ODs are going to want to incorporate genetic and nutritional counseling into their practices – and that's fine. "I'll refer out for binocular vision issues, and I would hope that others would refer to me for patients who might want a more in-depth nutritional and genetic counseling session," she says. As optometrists become more aware of the impact, which supplement companies and AREDs type research are introducing on a larger scale, she says that her expertise can grow into more referrals.
She feels hopeful for a future where health care can be more tailored to each patient. "With advocacy and education, we can get there."
Learn More
Dr. Celia Futch is creating a website, ocularnutrigenetics.com, that will serve as an educational hub for those who want to learn more. She has posted her first webinar, and there is some information for patients, too.