By Gina Wesley, OD, MS, FAAO, Complete Eye Care of Medina, Medina, Minnesota
Here are five strategies for making the most out of back-to-school season this year. Promoting the connection between vision and learning now can help a practice stay busy from late summer all the way until the year-end rush starts.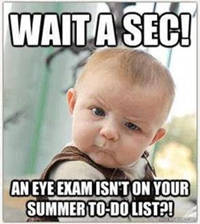 1. Make sure to promote contact lens fittings for school-age kids prior to school starting. This gives your office and the patient time to be schedule the appointment, instruct the patient on inserting and removing contact lenses and making adjustments needed to finalize the prescription before school starts.
2. Run a kids' back-to-school eyeglasses special and coordinate with your lab for a month-long deal on a basic pair of spectacles that could fit most kids and teens.
3. Promote new technology, like BluTech Lenses. So much learning now happens on tablets and computers that it's important to educate patients how to protect their eyes from damaging blue light.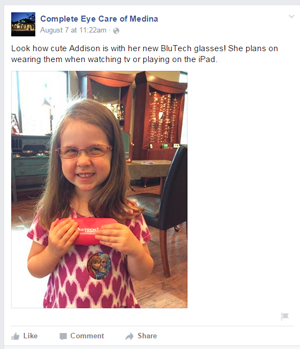 4. Educate your community about the importance of checking vision and eye health early in the school year. Encourage people not to wait until there is a problem or until a child starts complaining about headaches or being unable to see the blackboard. This may help some end-of-year rushes we all see in our practices.
5. Use social media. So many parents, especially mothers, are on Facebook that it's a great way to spread the message of children's eye health and vision. Our posting about little Addison and her new BluTech lenses, for example, has sparked questions about the technology. Even cute memes can serve as reminders.