After spending more than a decade working in multidisciplinary practice settings and for a medical group insurance company before that, Anna Torres, OD, began looking for a practice to call her own in 2002. She also wanted it to be close to home—the Glendora, California, community where she grew up. She found her opportunity when a retiring optometrist in Claremont, just 12 miles away, wanted to sell the practice that she calls Optometric Vision Center of Claremont.
"I love the city of Claremont, and I used to ride my bike here with my Girl Scout troop," Dr. Torres recalls. "I enjoy knowing the people of my community, giving back and meeting our local business people." She's had the chance to connect with others in her area through the Claremont Chamber of Commerce, Claremont Rotary and the Inland Empire Optometric Society.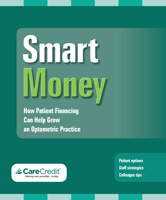 The practice was about 12 years old at the time she bought it, and Dr. Torres put her personal touch on it by expanding the small optical to include a wider variety and selection. She also added an area for in-house finishing for ophthalmic lenses, and she invested in diagnostic instrumentation including an optical coherence tomography unit and a retinal camera. As a result, her per-patient revenue has increased, even though she knows it's a challenge for some patients to pay the bill out of their checkbook balance.
That's why she began to offer patients the option of paying with a CareCredit credit card. Many of her patients are families or graduate students who may find it more difficult to pay upfront for eyeglasses and an annual supply of contact lenses. "When laying out the money is hard, CareCredit really helps these patients budget," Dr. Torres says.
Dr. Torres may be the one to introduce a patient to CareCredit "if I am doing corneal refractive therapy or recommending products for a large purchase," she says. Patients can make the decision to purchase products or services based on their need or desire, not simply by what they can afford that day. She and the staff can remind patients that CareCredit can be a great option for making a second pair of eyeglasses more attainable, and it may enable more patients to get an annual supply of contact lenses and eyeglasses at the same time. Dr. Torres says that offering CareCredit can help a family buy the eyewear they need for parents and children with special financing options.*
Dr. Torres says that she appreciates how the company has evolved and improved over the years. "CareCredit lists you on its website, and we have had patients who have come to us because we accepted CareCredit and someone else did not," she says. She implemented CareCredit in her office to offer patients an added convenience, but the fact that it has turned out to be a competitive advantage was a nice benefit, too.
*Subject to credit approval. Minimum monthly payments required.