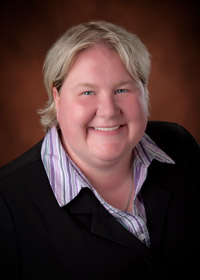 Office manager Jen Pankow recalls that it was about four years ago when patients at Advanced Eye Care Professionals in Oak Lawn, Illinois, started asking her if the practice accepted CareCredit credit cards for payments. Pankow had heard of CareCredit before and so had practice owner, Casey L. Hogan, OD, FAAO. The two agreed it was a smart decision to work with CareCredit, as it would help alleviate the pressure patients feel when paying a bill upfront and make the process easier for patients. "It was a no-brainer," Pankow says. "We will do anything that we can do to break up the final bill and make it more doable."
Pankow says that she likes that CareCredit offers special financing options, which allow patients to make more affordable
payments. "It can be expensive," she says, particularly when patients have a higher prescription and want slimmer, high-tech lenses
or for a family that needs multiples of eyewear and/or contact lenses.
Patients can apply and find out if they are approved at home online or in the office during their visit. "We have a link to CareCredit on our website, and patients can click and apply there," Pankow says. They also promote the payment option on social media. "When we have a sale, we announce it on Facebook and bundle it by saying we accept CareCredit," she adds. The practice has also gained new patients since accepting CareCredit; they mention that they use it at dental or veterinary offices. There are point-of-purchase materials displayed around the office, and the doctors and staff know to bring up the option to all patients. Currently, Dr. Hogan's sister Jamie Hogan, OD; Tiffany Polanek, OD; and Jessica Jose, OD, are part-time associates in the practice, and they know that they can refer patients to CareCredit, as well.
Pankow says that accepting CareCredit credit card as a payment option has been appreciated by patients or parents who need MiBo Thermoflo, orthokeratology or scleral lenses. "Some of these services and products are not covered by insurance; scleral lenses can cost $2,000," she says. "Medically necessary scleral lenses can now be an option for patients who couldn't pay before, and it will enhance their lives and make their vision better."
Some patients who are CareCredit cardholders return each year and use their card at every visit, sometimes for copays or second
pairs of eyewear like sunwear or computer glasses. Contact lens wearers may decide that they don't want to pick between contact lenses or eyeglasses. "When insurance covers either eyeglasses or contacts, and not the other, this is a good option for them," Pankow says. All cardholders can take advantage of the special financing option to finance the products and services that they need and want.
Pankow says that working with CareCredit is a simple process for both the practice and patients. "The support is excellent," she says, adding that they've welcomed the CareCredit support team to the office on several occasions to provide guidance on integrating this payment option into the practice.
Advanced Eye Care Professionals started accepting CareCredit before the practice moved to its current location in January 2014. There had been just one hallway of eyeglasses to choose from in the 500-square-foot space, and now there's a much more expansive optical selection of choices for patients to consider. "Dr. Casey Hogan had practiced in the area before, and I joined her for her cold start in 2003," Pankow says. "Our practice has grown from word of mouth."
Many practitioners have found that a move to a new location breathes new life into the optical. Even if the frame inventory doesn't expand dramatically, often frames can be presented in more attractive and compelling displays.
And don't limit mentioning the CareCredit special financing only to patients whom staff thinks might "need" CareCredit special financing. After all, if the financing option allows more patients to walk out of the office with the eyeglasses, contact lenses and eye care services that they want or need, then everyone wins.