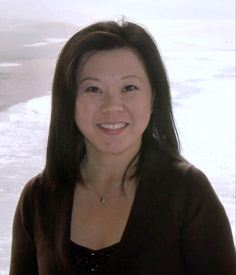 Amy Lin, OD, recalls the tremendous impact her family optometrist made on her when she was a young girl. From third grade on, her annual visits to the optometrist ended in a similar way: a prescription for stronger eyeglasses that also relieved the eye strain that she was feeling in school and while studying. She became even more enthusiastic about the field as a sixth grader during a cow eye dissection. While her other classmates were disgusted, she thought the procedure was amazing.
Excited as she was to learn about eyes and eye care, her personal interactions with her optometrist were limited to her annual exams. She admired her doctor—a woman, a role model—but healthy patients and doctors just didn't cross paths often.
However, that's different today, and Dr. Lin believes it's important to be in regular contact with her patients. After working as an associate and managing the same office for more than 10 years, Dr. Lin took ownership of Vision Dynamic Optometric Center in Danville, California, in 2012. "I want to help people see well and keep them healthy," she says, "There are many factors involved in that process, including preventive care, eyelid hygiene, contact lens compliance and blue-light protection. However, I believe that keeping patients healthy starts with education, which needs to happen both inside and outside of the office."
During the early years of ownership, Dr. Lin built the practice one patient at a time; now, using Solutionreach patient relationship management system, she is able to reach more patients more quickly and with messages that carry more professional weight. Even when she moved to Crystal Practice Management after she became owner, Dr. Lin continued with the Solutionreach platform. "It seemed customizable and ready to use," she says.
She thinks back on how patient communication was handled prior to Solutionreach and realizes how much staff and doctor time that was required. "We sent handwritten letters and we had preprinted postcards with ugly labels for recalls," she says. Now, recalls, reminders and even newsletters are sent to patients via email, text message or voicemail through Solutionreach.
Patients who prefer a phone call can opt out of the text or email messages, but Dr. Lin estimates about 60 to 70 percent of her patients want to be contacted this way. "Even 10 years ago, most of us would never have thought that smartphones would be so essential in our lives. It's a totally different world," she says, and it's often the most reliable way to reach patients since many people keep their cell phone numbers even if they move. "With Solutionreach, we can see the confirmation that the patient received the message, too," she says, which is better than wondering if a voicemail is ever listened to or whether a postcard is sitting abandoned in a mailbox.
Patients can call the office or send an email to request a time frame for an exam, which is confirmed by a telephone call. It's also easier to connect with patients who miss their appointments or need to reschedule them, she says.
Solutionreach sends patients a survey a day or so after their completed exams; Dr. Lin wrote the six-question survey that helps her track her Net Promoter Score and the patients' impression of their experience. That's important because the practice is in a growth phase. Dr. Lin and two associates cover patient care for nearly 50 hours a week. The practice added an in-house lab this year and has been emphasizing Dr. Lin's 20-year experience in orthokeratology.
"When we can simply send a reminder that a patient's eyeglasses are ready, that's much faster than stopping to make a phone call. We are able to communicate with patients more often and more consistently," she says. Even the birthday video messages that are sent automatically are a big hit with patients, she says.
Taking those routine communications tasks out of the hands of staff allows her to focus more on how patients are treated inside the office. "We are finally fully staffed, and now we can work on customer service training training. Not having to make these phone calls or prepare mailings frees up our time to focus on the patient who is in the office," she says.
Even if she and her staff had the capability to send emails or texts to patients on their own, it's not a good idea to take on that task, she says. "It's not worth it. Let the pros do what they do," she notes, so the practice staff can focus on its core competencies. "I think that if a practice were going to try to do its own electronic communications, it would soon resemble what happens when we were doing our own paper-based communications. We'd do it when we could—in chunks, but not reliably or consistently." With Solutionreach, that's no longer a worry.