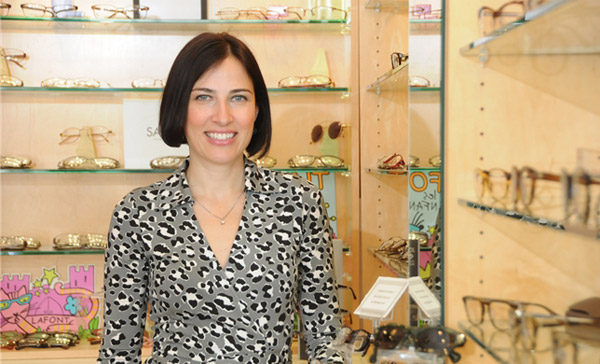 In the early days of 2013, when Larah Alami, OD, FAAO, and her business partner, Nathan DeDeo, OD, opened Hudson River Eye Care together in Tarrytown, New York, they didn't need a recall system; all their patients were new to them that first year. But it quickly became apparent that traditional recall systems were neither efficient nor effective, Dr. Alami says.
Dr. Alami and Dr. DeDeo were optometry school friends who decided to open a business together about eight years after they graduated. In their second year of the practice, they began testing different patient engagement systems. "Calling patients with a reminder the day before the exam wasn't that effective in reducing no-shows. It turns out that most people need reminders beyond a phone call," Dr. Alami says. "We conducted a test with Solutionreach and liked it. Now our patients get a text, email or phone call one week and one day before the visit, as well as a day-of-appointment reminder. So many patients tell us how important the reminder earlier that day is."
That doesn't really surprise Dr. Alami. Patients get busy with a work task or a sudden errand and may forget that they're scheduled
for an eye exam shortly. They're not intentionally missing their appointments, she says. "I'd say that a practice can't live without
having a service like this in the modern world," because the way practices engage with patients is different today. "Most millennials don't even have landlines, and they don't answer their phones or want to listen to voicemails. But it's easy to confirm with a keystroke
that they'll be at their scheduled appointment," she says. Increasingly, older patients are using the technology in much the same way.
"Using Solutionreach is also important to the way our patients perceive us. They want us to be a modern office. They are more likely to believe that we are offering the best quality lenses and frames if we're up to date with technology," she says. In a time where potential patients can swipe through reviews and Facebook pages in an instant, a practice's tech-smart systems are a factor in the decision to choose a provider, she says.

Solutionreach has also provided the practice with ways to engage patients more frequently. "We filmed our birthday video that
pops up on a patient's phone. If it shows up at work or while the patient is with friends, it's unusual enough that the patient shares it."
In addition, the practice sends patients a newsletter every month or two. "I'll write about new products or an upcoming trunk show.
We send these reminder messages throughout the year to prompt patients to think of us," Dr. Alami says.
The partners opened a second practice location 2017 in White Plains, just four miles away. "We figured out how the start-up
works, and we felt like we had the first location under control," she says. Even though the businesses are very close to each other, the
demographics are different. "Our first location is a high-end boutique on a historic main street.
The second is in a strip mall with a lot of foot traffic." To capture more patients in that second location, the doctors have signed on with many of the vision insurance plans. "We consider this part of our mission. Patients covered by these insurance plans might not yield a high reimbursement for us, but they need eye care and they deserve to be treated well," she says. The practice's mission statement
reads, "We are committed to excellence by providing compassionate personalized health care through extraordinary service and
high-quality products."
Plus, once these patients are in the door, there are opportunities for additional purchases. "You never know when a patient is going
to be in the mood to purchase contact lenses or sunglasses or a new pair of frames," she says. That's where patient engagement
systems come into play: to remind patients that these products and services are available, even outside of their annual exam.