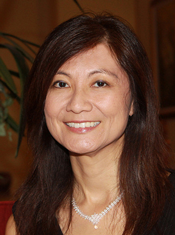 By Ida Chung, OD, FCOVD, FAAO
Vision therapy is the best kept secret. No more! The College of Optometrists in Vision Development (COVD) started a campaign many years ago and successfully increased the visibility of optometric vision therapy. Back in 1971, COVD was formed to ensure a body of practitioners was able to provide vision therapy services to meet the demands of society. Now COVD continues its mission of improving lives by advancing excellence in optometric vision therapy through education and board certification. Social media and public relations together have made vision therapy more visible to the public. Here are some of COVD's initiatives to making vision therapy more visible.
Tour de Optometry program brings presentations to students, faculty and school administrators who control student curriculum and clinical experience. This is our 11th year talking to future ODs who will provide vision therapy. Last year, COVD board of directors visited 21 schools, reaching close to 2000 students.
Public relations and social media is a year-round effort. COVD helps member doctors observe important vision-related celebrations including Vision and Learning month in August with state proclamations and public service announcements (PSAs). March is Brain Injury Awareness. April is Autism awareness. October is Learning Disabilities awareness. COVD has created 13 PSA videos available on YouTube Channel.Social media, including Facebook groups such as Vision Therapy Parents Unite, helps to spread the word of vision therapy. These sites touch on how developmental optometry affects patients, and includes posts by patients willing to share their stories of how their lives or their children's lives were changed by vision therapy. COVD has a blog and a website with information for the media, the public, parents and doctors on vision therapy. On the COVD website, there is a doctor locator to find optometrists who provide vision therapy services here in the U.S., Canada and other countries around the world.
COVD's new journal, Vision Development & Rehabilitation, launched in April. This premier peer-reviewed, evidence-based journal helps advance research in vision therapy and rehabilitation and furthers interprofessional collaboration in caring for patients.
A speaker's bureau is funded through a generous Kaplan estate donation. Private practitioners are invited by students to speak at optometry schools, sharing with students their experiences in providing vision therapy services to patients in their community and practice management tips in establishing their vision therapy practices.
COVD's annual meeting each April provides continuing education courses in the area of vision therapy. There are social events geared towards students and resident including practice opportunities meeting and doctor-student socials. There is education for doctors, therapists and staff. There are two-day applied concepts courses to assist doctors in preparing for fellowship or taking courses for in-depth knowledge and clinical applications on various topics.
COVD supports private practice residencies. Several COVD fellows have opened up their successful practices for residents, contributing to the advance training of optometrists providing care in the area of vision therapy and rehabilitation. There are now at least a dozen private practices around the country offering residencies complementing the many established academic-based residency programs.
Join COVD in continuing to work with doctors and vision therapists to make vision therapy more visible by providing vision therapy services in your office or referring to your colleagues. Log onto covd.org doctor locator and check us out!
Dr. Chung, immediate past president of COVD, is Director of Optometric Education and associate professor at Western University of Health Sciences – College of Optometry.