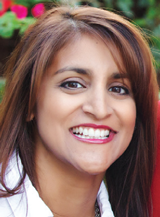 Neha Amin, OD, FAAO, was hired at a Phoenix, Arizona, practice just a few months after she graduated from University of Missouri St. Louis School of Optometry in 1999. The following year, she and the owner began hammering out her buy-in and acquisition strategy, which started formally at the end of 2001. Five years later, by the end of 2006, she co-owned the practice with another partner, and since 2010, it's been all hers.
While the steps seem methodical, it was often a whirlwind. "I got married and bought a practice within two months of each other," she says. She's lucky, she says, that the original owner had established a practice with the philosophy of providing excellent service. "We weren't trying to be the fastest or the least expensive. We have always been about trying to provide services that were difficult to find in town," she says. While she has put her stamp on the practice in the years that she has owned it, she has built on that basic framework of providing quality service, she says.
She sees patients about 3.5 days a week and reserves at least a half day for administrative work, in addition to managing those unexpected or periodic tasks that face all business owners. "It seems to be harder now to find that balance between being financially secure and having a good lifestyle. Yes, you can make lots of money if you're willing to work six days a week, but I want to spend time with my family, too," she says.
So she has found her most successful strategy is in providing services in her practice that provide her with a competitive edge. For
example, in Arizona's climate, dry eyes are a continual problem for many patients. "Dry eye is a big issue, and it's a major reason why people drop out of contact lens wear," she says "I don't want them to stop wearing contact lenses because their dry eyes are making
them miserable." She says that she has found help in Retaine® HPMC™ Lubricant Eye Drops, a preservative-free hypromellose ophthalmic solution (0.3%) that provides immediate relief to soothe dry, irritated eyes by resembling natural tears. "I think Retaine HPMC is one of the best things that has happened for my dry eye patients," she says. The product uses an airless pump system that
prevents harmful bacteria from entering the bottle. "It's preservative-free, but it's still in a bottle, so that's very convenient," she says.
Dr. Amin says that she has dry eyes and is also prone to allergies, so she always uses herself as a guinea pig for products before she introduces them. "If they work for me and don't trigger any reaction, then that product will likely work for most of my patients," she says. That's been the case with the Retaine HPMC. Many of her patients use it in the morning and again at night and find that
those two doses provide effective relief without having to carry around artificial tears during the day.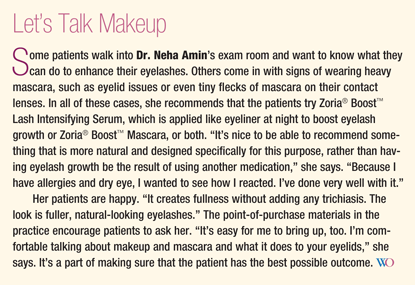 The practice sells OCuSOFT drops, scrubs and Zoria® products in office. "We price them the same as the suggested retail price or
lower and, during the checkout process, make patients aware of this. We are ensuring that they get the proper products without spending any more of their time. The extra income is just an added bonus. Patients know we stand behind the products that we promote," Dr. Amin says.
For patients with more demanding dry eye issues, she can turn to Retaine® MGD™.
Dr. Amin also provides other specialty services, such as vision therapy for children and adults, including those who have suffered traumatic brain injury. She works at a nearby concussion center several mornings each week, and her office has a variety of vision therapy devices. Those tools have also engaged her sons, ages 6 and 9, on the occasions when they have short school days and spend a few hours in the practice. The more she can do for her patients, the more likely that they'll stay with her practice for all of their eye care needs. "It's all about being a well-rounded practice, having a solution to any patient concern and understanding patient needs," she says.