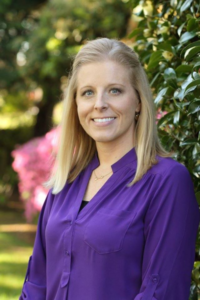 When Ashley McFerron, OD, purchased her practice—Canby Eyecare, in Canby, Oregon—in 2011, she knew she was tapping into a great opportunity. The previous owner in this small town provided mostly refractive care and acute care as necessary. But she realized that with some technology investments, she could bring more services to more people. The practice grew quickly, doubling its revenue in about three years—even with no external marketing. "Even if no new patients had come in, we would have grown because I was co-managing more diseases and adding services such as dry eye," she says.
BRING OTC IN
At about the same time, she realized that it made sense for her to carry the over-the-counter products that she most often recommends. "Once we started carrying products, we have kept adding more because patients are asking for them," she says. Patients appreciate the convenience of being able to buy the recommended products right away, without having to make another stop on their way home or gazing at the wide variety of products available in a pharmacy or department store.
Dr. McFerron first added fish oil supplements and realized that managing the sale of these was not difficult. She realized, too, that patients were asking her for recommendations for other products. "I decided I was going to stop recommending baby shampoo at home as a wash around the eyes," she says. So patients wanted to know what she would recommend.
Surfactants in OCuSOFT® Lid Scrub® Eyelid Cleansers dissolve and remove oil and foreign material, and the mild, nonirritating formulations are 16 times milder than baby shampoo. "I had been recommending OCuSOFT Lid Scrub foaming eyelid cleansers and lid wipes for so long, it made sense to have a product that I feel so strongly about right here for patients to purchase," she says. Sales took off.
Dry eye, for example, is a new growth area for her practice, and a discussion on eyelid hygiene is an important part of the conversation. "When I start talking about meibomian gland dysfunction with patients, I'll ask what products they use to remove makeup or to wash their face. I say that it's important to have something effective but gentle to clean off the products and grime of the day," she says.
GAIN BUY-IN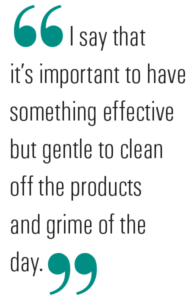 Before a doctor makes a decision to sell over-the-counter products in the practice, it is important to get buy-in from everyone—staff and other doctors alike. "I'm here three-and-a-half days a week, so I want to make sure that patients are hearing the same message about the products we sell," even when she is out, she says.
For example, she heard from one employee who felt a bit uncomfortable with the concept of selling nonprescription products. "When I was able to show her that patients appreciate knowing they can leave here with the product that I've recommended and that it improves compliance when patients can start with the product right away, then she understood that it was more service than sales," Dr. McFerron says. "That works as long as these are  products I use and believe in."
Patients are generally very willing to purchase products from the office, especially when she assures them that her pricing is competitive. "I'm trying to make it convenient for you to be able to start using this today," she says. They don't have to see if a local store carries it, and they don't have to wait for delivery.
SPEND TIME ON THE BUSINESS
When Dr. McFerron was preparing to become the president of the Oregon Optometric Physicians Association from 2016-2017, she cut back her patient care schedule to accommodate the duties she would pick up in that role. But when her tenure ended, "I kept that schedule. I realized that I could have other doctors see patients and I could invest that time to serve as administrator and CEO of the practice. Being able to spend time on analyzing and planning for the business, aside from the day-to-day routine, lets me see what products, services and opportunities I can bring in."