In a recent roundtable discussion published in Review of Optometry, titled "Diabetic Retinopathy Management Protocols for Optometry," from LKC Technologies, three doctors discuss the guidance for managing patients with diabetes. Paul Chous, MA, OD, FAAO, of Chous Eyecare Associates; Dorothy Hitchmoth, OD, FAAO, of Dr. Dorothy Hitchmoth, PLLC; and Bobby "Chip" Wood, OD, of Wood Vision Source, Coyote Optical, participated.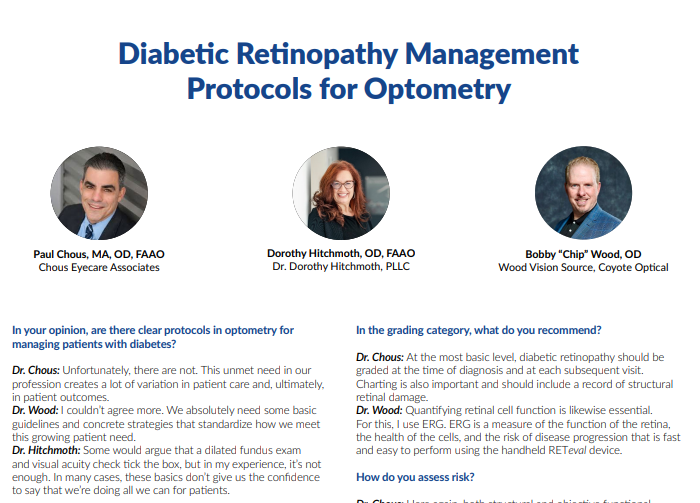 All three noted that there are not clear protocols for managing patients with diabetes. Dr. Hitchmoth said, "Some would argue that a dilated fundus exam and visual acuity check tick the box, but in my experience, it's not enough. In many cases, these basics don't give us the confidence to say that we're doing all we can for patients."
Helpful technology exists, she added, noting that she advocates for electro-diagnostic testing (ERG), preferably utilizing the additional measure of pupillometry, as in the DR score offered by the RETeval® device, since this provides a direct reading of retinal health." Guidelines that aided eye care professionals in putting all the pieces together would be helpful, she added.
Access the full article here.
Read more stories from LKC Technologies here.