The Contact Lens Institute (CLI) has added additional translations to its suite of EASY Way (Eyes, Awareness, Safety and You) patient education tools, timed for back-to-school season. The initiative helps a broad spectrum of the eye care community share simple steps to healthy, comfortable contact lens wear.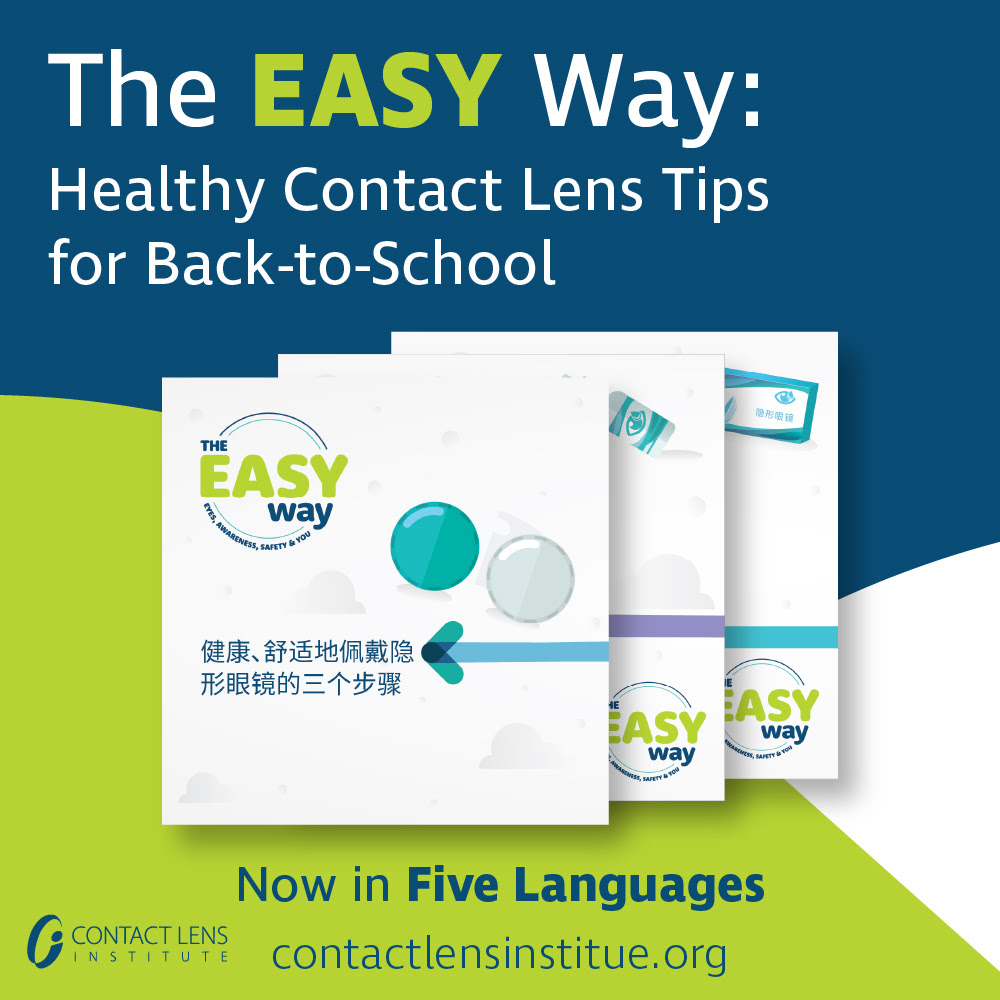 In addition to infographics designed for in-office and online use, The EASY Way social media graphics and animations are now available in English, Spanish, French, Simplified Chinese and Traditional Chinese. All can be viewed and downloaded for free from the resources section of contactlensinstitute.org.
CLI introduced the program in 2020, following research that showed consumers regularly ignore overly complex instructions in their daily lives—including 58% of adults who admit to figuring out how to use a new product by trial-and-error. Conversely, The EASY Way method was found to be well understood, memorable and easy to follow.
At the center of the program are three easy steps:
Think Clean. Wash and dry your hands every time before touching your lenses or eyes. If you wear reusable lenses, always clean and disinfect them with each removal, and clean your lens case as directed. Keep your lenses and case away from any type of water, which can contain harmful microorganisms.
Remember Fresher is Better. Wear your contacts for only as long as your eye care professional says, replacing them with fresh lenses on schedule. Only wear daily disposable lenses once, and always rely on new solution for reusable lens disinfection and storage. Replace your lens case at least every three months.
Trust Your Eye Doctor. Listen to your eye care professional, who has specialized training. If you have any questions, contact their office—they care about your health and great vision.
"Since its launch, we've seen The EASY Way adopted by eye care practices across the U.S., Canada, and beyond. Our latest translations will provide even more access to patients wearing contact lenses for the first time, or current wearers who are returning for an exam ahead of the new school year," said Stan Rogaski, CLI's executive director.
The Contact Lens Institute advances the latest innovations in safe and effective contact lens and lens care products and services that provide unique benefits to patients while satisfying the evolving needs of eye care professionals. CLI undertakes activities that properly assess, enhance, promote, and balance contact lens and lens care industry welfare and growth, including the safe use of products in the marketplace. Its members include Alcon, Bausch + Lomb, CooperVision, and Johnson & Johnson Vision. For more information, visit contactlensinstitute.org.
For more news from WO, click here.