Sometimes it's all about the money. And sometimes it's not. Financial pressures are real. About 25 percent of ODs, men and women, work more than one professional job. Some of these responses might reflect new ODs who are working for others while building up their own practice, and some may be out of financial necessity. Forty-eight percent of women ODs who responded to a Pop-up Poll in 2017 said that theirs was the primary income for their household. Eighteen percent said that theirs was the only income for the household. Only 15
percent of women ODs said that their partner or spouse earned more.
However, in another Pop-up Poll, salary came in behind independence and location for respondents who listed the top factor in making a career choice, and salary tied with schedule and flexibility as the third most cited top factor.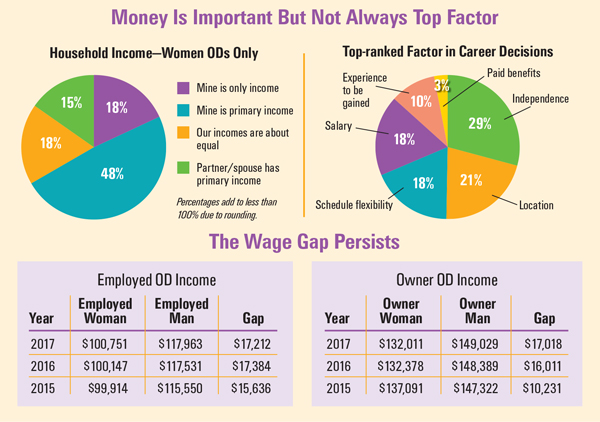 Sources: WO Pop-up Polls and Jobson Optical Research in conjunction with Local Eye Site