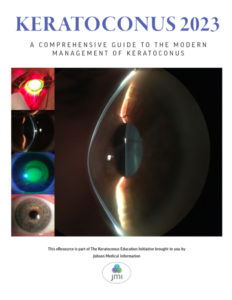 Jobson Medical Information has released Keratoconus 2023: A Comprehensive Guide to the Modern Management of Keratoconus, one of two key components of the 2023 Keratoconus Education Initiative.
The comprehensive, 84-page keratoconus e-resource was developed by leading optometrists, Melissa Barnett, OD, FAAO, FSLS, FBCLA, and John Gelles, OD, FAAO, FIAOMC, FCSLA, FSLS, FBCLA, who gathered experts in the field of keratoconus to cover every aspect of managing the disease using the latest technology and diagnostics.
Dr. Barnett and  Dr.Gelles worked with guest editors Steven A. Greenstein, MD, and Peter S. Hersh, MD, along with a group of internationally recognized optometrist and ophthalmologist keratoconus specialists to put together a document that includes the incidence and prevalence of keratoconus, diagnostics and monitoring, various treatments including crosslinking, collaborative care, billing and coding, and much more.
"I am proud to be part of this collaboration that will increase awareness and knowledge about the best practices of managing patients with keratoconus," said Dr. Barnett. "We've
emphasized the importance of teamwork to develop strategies to improve outcomes for those with this condition, and I am hopeful this resource increases knowledge to benefit our patients."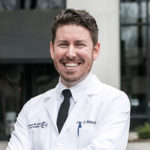 "We were very honored to work with many of the world's foremost experts in developing this compendium of work," said Dr. Gelles.
In conjunction with the e-resource, Dr. Barnett and Dr. Gelles also hosted a webinar entitled "Identifying and Managing Keratoconus in Clinical Practice." The two-hour session offers tips on the modern management of keratoconus, early diagnosis and how to stop progression and rehabilitate vision. The webinar covers everything from methods to detect keratoconus earlier, an overview of corneal collagen crosslinking, and contact lens and surgical treatment options.
The webinar is available for viewing here.
Access Keratoconus 2023: A Comprehensive Guide to the Modern Management of Keratoconus here.