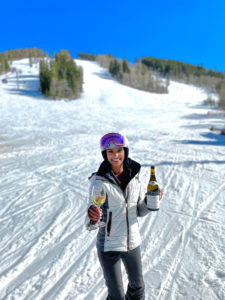 By Nadia A Virani, OD
Vice President of Operations- EVP Eyecare
On the closing day of ski season, we found ourselves in Beaver Creek, Colorado, enjoying some April skiing. Skiing this late in the season allows us to shed our heavy ski clothes and take advantage of the sunny days without worrying about frostbite on our toes.
Although après ski is a great time no matter the season, there's something special about closing the ski season by grabbing a great bottle of wine and basking in the sun while listening to live music.
"Après-ski" is French for "after ski" and is a beloved tradition of joining friends – both old and new – for drinks after a day of recess in the mountain snow.
As we told stories from our day, we found a bottle of classic white Burgundy to savor the lively mood of the end of ski season.  We chose a selection from Joseph Drouhin that is made in Rue Pouilly Fuissé – a small hamlet in the Burgundy region between Lyon and Dijon France on the banks of the Saone river.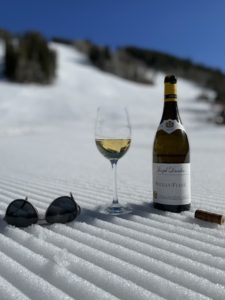 Burgundy is best known for its old-world Pinot Noir and Chardonnay varietals.  Unlike the Chardonnays from the United States,  Burgundy white wine is crisp and refreshing, absent that heavy buttery taste of the same "new world" grape varietal.
Similar to Bordeaux, the Burgundy region is legendary in wine circles with a history that dates back to 50 BC. Ocean waters retreated from this region millions of years ago, leaving rich limestone soil behind that when combined with hot summers and cold winters produces distinctively lively wines.
The Drouhin family has been making wine in this region for more than 140 years, and the fourth generation vintners are committed to producing wine with "character, balance and harmony" – a heavenly combination of qualities enjoyed after a day playing in the outdoors.
So, the next time you find your self in the contrast of sun and snow, be sure to grab a bottle of crisp white Burgundy!