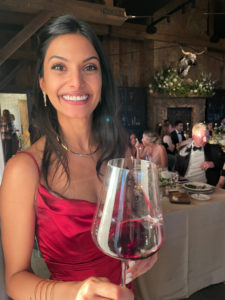 By Nadia A Virani, OD, Vice President of Operations- EVP Eyecare
I recently took a weekend break from the busy eye-world we all live in to attend a friend's wedding in gorgeous Saratoga, Wyoming.  It was my first time to Wyoming, and the wedding's venue at the Brusch Creek Dude Ranch was a feast for the eyes and heart. I was able to soak in some relaxation, time with friends and, you guessed it, some fantastic wine!
The ranch where we stayed dated back to a heritage that began in 1884 and featured a 100-yard-long underground wine hall that opened in 2020. Frankly, it was quite the sight to see an entire football-field-sized cellar housing wine. I was inspired by this and the bride's father and our host– Mark's– favorite wine selection produced by Hall Winery.
Founded by Kathryn Hall, the Hall's two wineries have become an institution in the Napa Valley that celebrate the region, the artistry of skilled wine-making and more than 500 acres of some of the best wine growing soil in the region that at one time produced over 40 percent of all the wine produced in Napa Valley.
At a venue that overlooked the vistas in front of the Absaroka Mountain range and with a crisp spring sunset, our host served the 2016 Hall Stags Leap Cabernet Sauvignon, a wine that historically has competed with Merlots as the world's most popular wine varietal across all the wine-producing regions in the world.
Hall's Stags Leap Cab drinks like an entire meal in one sip, including an appetizer of blueberry flavors, an entrée of rich nearly tobacco-like taste and dessert of an earthy dark chocolate aftertaste – perfect for the cool spring wildflowers that were beginning to poke their heads up to say hello to summer.
A bit on the rich side compared to a pinot noir, this wine paired perfectly with the love of family and friends and kobe beef as we celebrated the union of a beautiful couple. Before summer begins to bring the heat and we continue to enjoy those crisp spring evenings, I highly recommend this Napa Hall Cabernet Sauvignon.
Congratulations to the beautiful couple and thank you to the Hopkins for being a wonderful hosts and sharing this great wine selection with us!
Dr. Virani is a certified level one sommelier, certified by the National Wine School. She writes regular columns for WO featuring her wine recommendations. Read her recommendation for a white burgundy here.