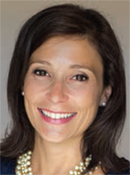 Leslie O'Dell, OD, wanted to have a stronger voice. She had enjoyed working in a medical/surgical practice for the past 11 years, and the fit seemed ideal after a residency in ocular disease. But as the years went on, "I developed more of a desire to be a leader. I wanted to have a say in the technology and staffing," she says.
So she needed to make a decision: go out on her own or join a group that was a good fit for her. "I don't have the full range of business skills," she says. "Even though there are a lot of resources for optometrists starting out, I thought I'd have too much stress." The better option for her was to take her medical practice experience in ocular surface disease and dry eyes and bring it to an optometric practice. She also has a strong interest in glaucoma, diabetes and age-related macular degeneration.
Dr. O'Dell had a chance in the past decade to meet many ODs. In fact, she had the challenge of going to them to ask for referrals. As the first OD in her region to offer new technologies for dry eye management, she needed to convince ODs that their patients would be seen for this medical condition and then sent back to them for primary care. "They started to feel more comfortable with me because of the different skill set. I did a lot of reaching out and building friendships," she recalls. Those networks eventually led to a job offer with Wheatlyn Eye Care, an optometry group practice in Manchester, Pennsylvania. She started this month, after taking much of the summer to catch her breath in the career transition and spend the summer break with her daughter, age 7, and her son, age 4.
The new practice is about 20 miles from the medical practice—where she still has a strong connection with the surgeons. "They're cutting-edge cataract surgeons," she says. "It's important to keep your connections strong. Don't ever burn your bridges." In fact, she also took time this summer to visit with other MDs in the area to learn more about areas where she doesn't have as much experience, such as oculoplastics, cornea and neuro-ophthalmology.
Her training and experience will be a benefit to the practice she's joining, she says. "One of my colleagues who was also residency trained asked me how I would 'continue to be' challenged. I think that's an easy answer. In the medical practice, I was seeing a lot of end-stage glaucoma patients. But I'd much rather be involved earlier in the disease process to help diagnose sooner and prevent vision loss for patients. I have a strong interest in meibomian gland dysfunction and developing a successful dry eye practice," she says. It's a great opportunity. "There are a lot of patients suffering from dry eye conditions who don't even know that's the problem," she says. "Now is the time to be more proactive in our patients' care—looking for dry eye before symptoms present."
She's eager to build a dry eye practice that is not only accessible to patients but convenient, too. "I will be starting The Dry Eye Center of Pennsylvania within this new group. It's a very exciting time for me, as this is something I have been planning since 2007, but I just hadn't found the right setting until now." One of her ideas is to offer dry eyes products in the practice. She particularly likes many of the dry eye products from OCuSOFT, such as Retaine® MGD® Lubricant Eye Drops, OcuSOFT® Lid Scrub Foaming Eyelid Cleanser and Tears Again® Advanced Eyelid Spray. "The spray is great for my older patients or anyone who struggles to use eye drops for dry eyes," she says. She has also been introduced to OCuSOFT OustTM Demodex® Cleanser, an in-office, tea tree oil treatment. "I'm excited to introduce this in my management for patients with Demodex blepharitis." By having these products available for sale in the office, the focus moves to "one-stop shopping. When patients can leave with the product in hand, they will be more compliant. Compliance—whether we're talking about glaucoma, dry eyes or contact lenses—is so important to successful treatment and, ultimately, patient satisfaction," she says.
To be successful with a dry eye practice, a practitioner has to be willing to build it into a practice. That means educating patients and even educating colleagues who might refer patients to you. Dr. O'Dell has also been invited to be part of the Tear Film and Ocular Surface Society's Dry Eye Workshop initiative, known as DEWS II, a global dry eye research effort, where she serves on the public awareness committee.