When Georgia-raised Valarie Jerome, BSc, OD, moved to England after marrying an Englishman, she wanted to bring a touch of the U.S. optometric experience to the U.K. She opened Valarie Jerome Optometrists in 2019, in Newbury, about 60 miles east of London in 2019.
Valarie Jerome Optometrists is one of the few American-style "optometrist offices" to be found in England. U.K. optometry schools offer Bachelor of Science and Master's level degrees, but not the North American doctor of optometry programs. British citizens can access much of their eye care through the National Health Service. But as a private practitioner, Dr. Jerome can see cash-pay patients who prefer to select her directly and avoid the wait (or rush).
PRIVATE PRACTICE EXPERIENCE
Valarie Jerome Optometrists sits on an affluent "high street" (a term meaning a main or busy street) with cobblestone roads and lots of foot traffic. She's close to the center of Newbury, neighboring a popular clock tower, numerous cafes and salons and hard-to-find free parking.
Dr. Jerome found the corner location building in 2018. She and her husband—a -6.0D myope—turned the former real estate office into a consulting room, lab and dispensing area. After teaming up with a designer, searching Pinterest and creating a mood board, Dr. Jerome decided on a fresh-feeling space featuring coral accents, a nod to her Florida home.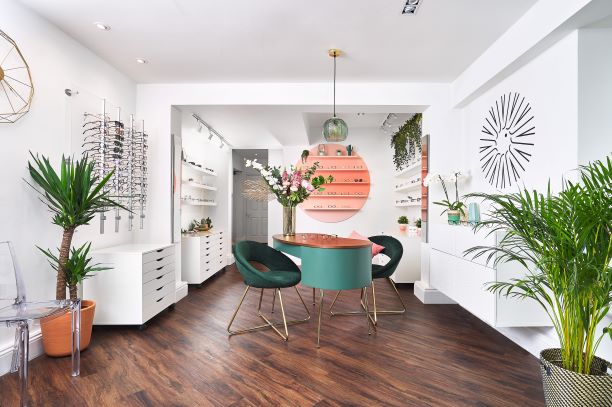 "I wanted to love where I worked," Dr. Jerome says. "I knew that running a business always comes with stress, so I didn't want the space to add to that." The practice features white walls and coral pink ombre shelves that she says were "a labor of love and took a few tries."
She found her consulting table on Pinterest from French company La Redoute. The white frame storage cabinet is from Ikea, she says, and the common area green chairs are from Dunelm, which she describes as "the Bed Bath and Beyond of England."
"I found lots of things on eBay," Dr. Jerome says. "You don't have to spend a fortune to make something look posh."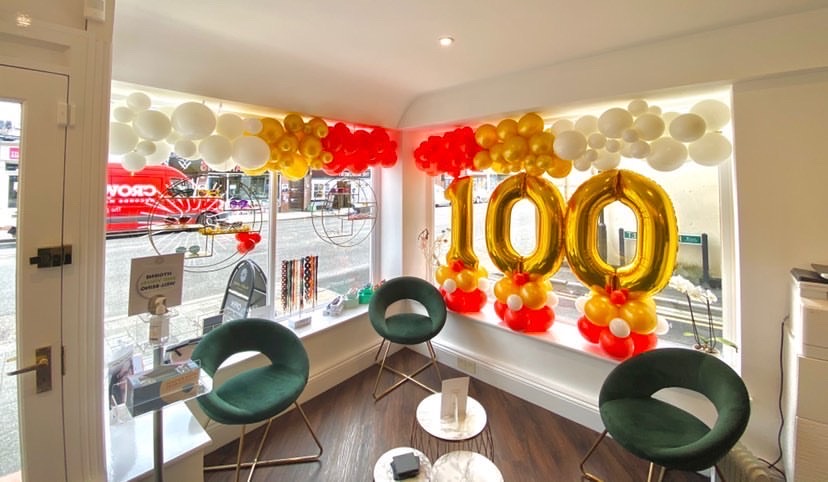 A large corner window keeps the almost 150-year-old, 555-square-foot space from feeling "claustrophobic" and is the perfect space for Dr. Jerome's frequent festive features.
"I am the daughter of Mary Simpson from South Georgia," she says with a laugh when discussing her window displays. She's decorated the window for various holidays and events, including Christmas, Valentine's Day, Halloween, the King's Coronation, the Tour de France, the Queen's Jubilee and more.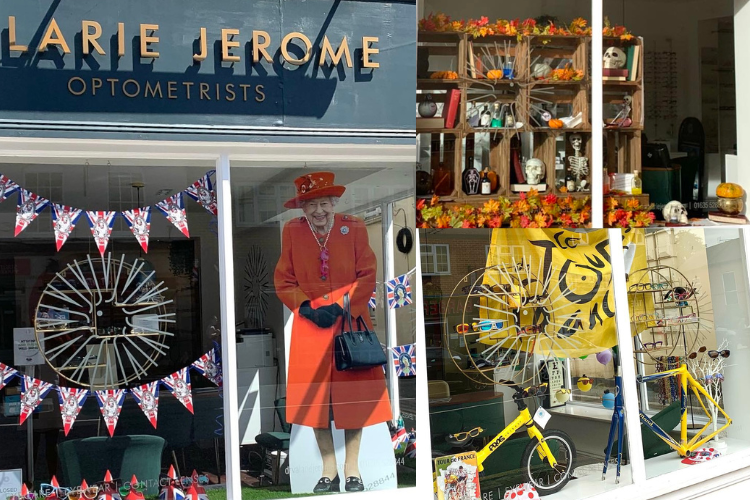 ADDING SERVICES
Dr. Jerome has added intense pulsed light equipment to help treat patients with dry eye and rosacea. Patients come to her for treatment of blepharitis and ocular allergies as well as new prescriptions for eyeglasses and contact lenses. Her Instagram pages are filled with facts about ocular and overall health, new services, reviews and photos of her and happy customers with their new frames.
Dr. Jerome plans on adding to her space by acquiring the 200-square-foot space next door to her and turning it into a dry eye spa. But she's happy with her tiny but mighty space, and she wants to thank other women in the optometric industry for sharing their stories and inspirations. "I love to follow the journeys of cold start practices and practice designs," she says. "It's been such a support and inspiration for me."
Check out Dr. Jerome on socials:
Tiktok: @ValtheEyeGal
Instagram: @drvalariejerome
To read other practice design stories from WO, click here.