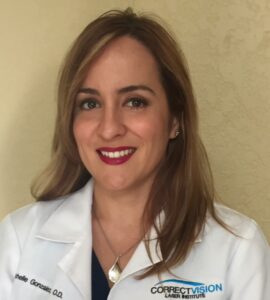 Referrals are the lifeblood of a practice.
While the tension in Florida is high with the "Not a Doctor" legislation before the state legislature, Michelle Gonzalez, OD, who has spent her career working in ophthalmology practices, says it doesn't need to be. In fact, the model that she works under at CorrectVision Laser Institute, with four locations in Broward County, Florida, has referrals flowing in each direction.
Specifically, Dr. Gonzalez was inspired after meeting Glenda Aleman Moheeputh, OD, in Miami. Dr. Moheeputh has become recognized for her advocacy for myopia management. "We started working together because we see a lot of myopic adults who come to us for refractive surgery," Dr. Gonzalez says. "I've begun to educate them after asking questions about their kids. I want them to understand that their children do not have to become as myopic as they are. These parents have been waiting for surgery – so they appreciate that there are steps their children can take to keep their myopia from progressing," she says
None of the four CorrectVision Laser Institute locations have an optical, nor do they accept patients' vision plans. "We are already referring patients to primary care ODs for routine eye care," she says. "The four surgeons here appreciate the collaborative care that ODs and MDs have," she says.
EDUCATING PATIENTS ON MYOPIA MANAGEMENT
Ultimately, myopia management works well for both businesses, she says. Patients who come to the laser institute for refractive surgery want to be able to see more clearly without eyeglasses or contact lenses, so they clearly value good vision. Knowing that they can take steps to slow down myopia progression for their children is important to them. In addition, taking a long view, the surgeons appreciate that patients who may need surgery in the future could have better outcomes if myopic progression is slowed. "If they come to as a -4.0D versus a -7.0D, they have a better chance of success with LASIK. There are options for patients who are highly myopic and are no longer candidates for LASIK, thankfully an implantable collamer lens is available," she says. "But early intervention is better."
Dr. Gonzalez tells patients that she is not an expert in myopia management but can refer patients to someone who is. "I can share enough so that they leave here understanding the urgency for doing something for their own myopic children," she says.
REFERRALS HELP ALL
She adds that even while the political landscape in Florida is challenging, in her own setting, the ophthalmologist/surgeons appreciate what optometrists bring to the patient experience. Her own personal journey working her entire career in ophthalmology and surgical settings has been rewarding. Dr. Gonzales continues to make connections with optometrists; she's the lead ambassador for Optometry Divas in South Miami. "Building those optometric relationships is important to me personally and professionally. Not only do I learn from these women, but it helps me build my network of optometrists to whom we could refer for services we do not offer."
Read stories from other ODs who have made their careers in multispecialty clinics.