After nearly two decades in the profession, Manisha Geiger, OD, started her own practice in September 2015. She had been fitting her specialty care services of neuro-optometric rehab and vision therapy (VT) into primary care practices, and it was a constant struggle to fit this care into someone else's schedule or physical office set up. After losing her father in 2009 and mother in 2014, Dr. Geiger decided to take the plunge and pursue her dream. Starting in a subleased space, Dr. Geiger quickly grew her patient base in just less than a year. By August 2016, the demand was so great that she started a search for her own space.
Dr. Geiger found a space in Scottsdale, Arizona, in a professional complex with many other medical offices. She decided to purchase, instead of lease, after having learned from colleagues in the area that there were often hidden fees or monthly inflation costs in local lease agreements.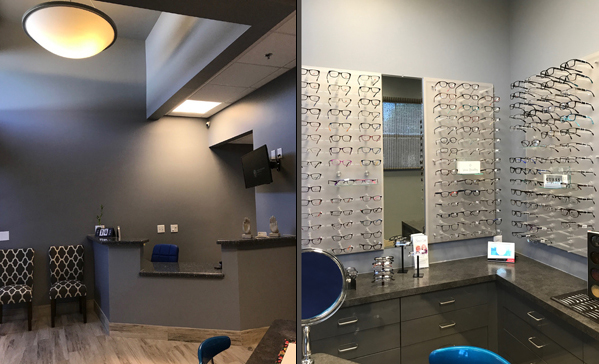 From December 2016 until April of this year, Dr. Geiger took a break to prepare her new office for opening Optimum Vision and Eye Care. The space was gutted, tearing out its many cubicles, and an architect worked with Dr. Geiger to create her ideal space. It's a contemporary and modern office mostly colored in slate gray with some pops of color. "It's very clean, and I tried to stay away from the look of an old-school optometry office," she explains. "The focus here is helping people get their lives back on track whether in work or school, whatever they are passionate about, and I wanted to create a warm, comforting and safe environment for them." That's particularly important for her patients with special needs. There are inspirational sayings throughout the office, and Dr. Geiger says that the positive atmosphere reflects her personality and the vibe she wants to reflect off her on her patients.
She has one typical exam lane for her primary and ocular disease care, and a second room is dedicated to VT and rehab. It's already stocked with several pieces of specialty equipment including a Sanet Vision Integrator and Senaptec sensory performance training eyewear to help integrate peripheral awareness and movement with depth perception. Her optical area displays eyewear from smaller companies, offering unique styles to her patients.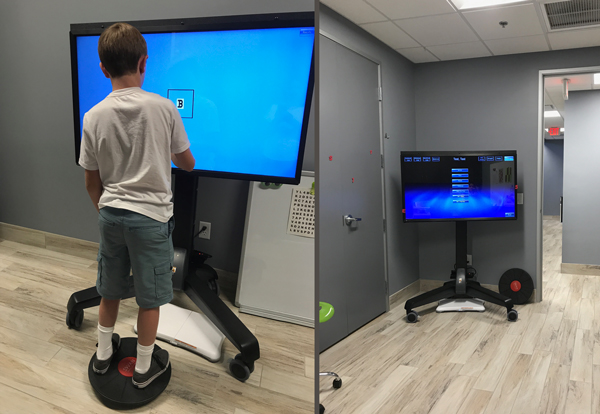 Dr. Geiger encourages her colleagues who are interested in this specialty to consider pursuing it to help the many patients who are left visiting one doctor after the next achieving very few solutions or little satisfaction. And while it may not be the niche for everyone, other ODs can use their basic knowledge to assess binocular health enough to refer to the proper specialty.