Heavin Maier, OD, says that she saw potential for the future in the Spokane, Washington, strip mall where she founded Eyes for Life in 2005. So when her landlord offered her the opportunity to lock in her rate until 2020, she jumped on it.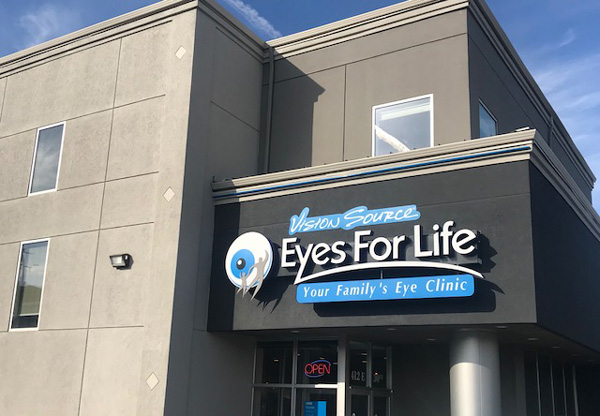 But as time went on, her views on the space changed, and Dr. Maier says she began to realize it didn't make sense expand there for her long-term future plans. Two years ago, Dr. Maier says that they reached a tipping point as she and her associate Kellen Robertson, OD, worked out of three exam lanes and a tiny pretesting area. "We had to be creative," she says, laughing. Dr. Robertson scheduled dry eye appointments when Dr. Maier focused on primary care to avoid traffic jams. "It wasn't very workable, and it wasn't allowing Kellen to expand. We were so tight that if a UPS box was delivered, we didn't know where to put it."
Around that same time she was consider a move, an unexpected opportunity fell in her lap when someone contacted her and her husband, Mitchell Maier, OD, asking to buy a piece of land that they owned where they thought that one day they would build a home. It was a generous offer that they couldn't refuse. "We profited nicely, and it changed my mindset from looking at a place to lease to finding a place to buy." Dr. Maier took the money from the sale of the property and immediately put it towards her commercial business, thanks to a Section 1031 exchange. This exchange allows an investor to sell a property, to reinvest the proceeds in a new property and to defer all capital gain taxes. "It's a great tool if you sell a piece of property," she explains.
She considered two spaces. The first one was a little closer to her previous office with three tenants, but there were too many risks and unknowns, as she'd also become a landlord, take over existing leases and face restrictions on remodeling. She adds that she's glad she trusted her gut feeling—because the entire strip center is vacant today.
Instead, she chose a standalone building, which was a five-minute drive away and had previously been an optometry office. There were two floors to work with and more than 5,000 square feet of space. She purchased the office on July 1, 2017, and began her remodel with fresh coats of paint and redoing the floors. She hit an unexpected bump in the road when her contractor discovered asbestos in the adhesive of the space's old tiles from the 1950s. The remediation cost an extra $17,000 that Dr. Maier hadn't budgeted for.
There were still a lot of renovations even though the former owner was an optometrist. "I wanted it to have my flavor," Dr. Maier says. She calls the look of the space industrial rustic, and the concept spurred from a desk that Dr. Maier saw and was inspired by in a Sam's Club store. Upstairs, the previous doctor focused on vision therapy and had kept most of that space open, so Dr. Maier had walls put in to create five finished exam lanes. That's been a game-changer for Dr. Maier and Dr. Robertson, compared to the three they worked out of in the old office. There's also enough space for four more exam rooms when the practice grows to three doctors.
Downstairs in the optical, she reused what was in good condition from her former office. It was hardest to leave behind the custom cabinetry she had in her old optical. With the new space and its rounded walls, "it didn't make sense, and it was costly to flatten the walls," she says. "I used the frame boards from the previous doctor and brought my old frame rods. I cleaned everything up, and it has a sleeker look."
When they moved in during Oct. 2017, Dr. Maier says that there were some changes to adjust to with a two-level space, such as how to handle patient flow. They've found it's most efficient to have the front desk staff direct patients upstairs to an area where they can wait before pretesting. If there's time, they still walk patients down for a direct hand off in the optical. Dr. Maier says that she hasn't had any complaints from patients about having to visit two floors, and they have integrated the Blue Note system, recommended by a colleague, to improve communication amongst the team members in a much bigger office.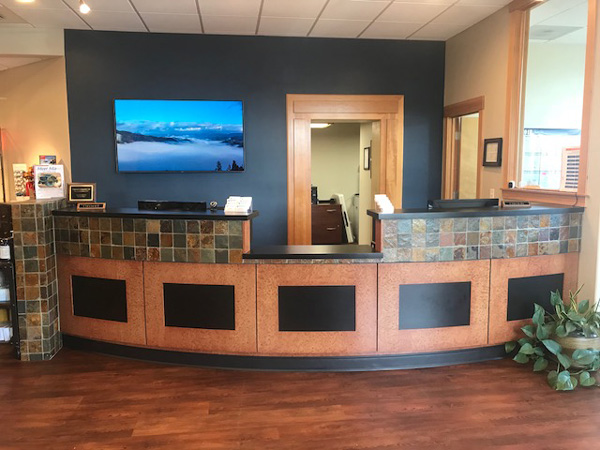 The first year in the new office has been a whirlwind focused on generating a buzz about the new location and establishing it as a fun place to be in the neighborhood. "We hit it hard with marketing," Dr. Maier says, inviting patients and the community in for concerts in the large optical space. The practice has also hosted three trunk shows with food and wine for guests. She's considering renting out some of her empty space to providers who can offer complementary services such as a massage therapists. Dr. Maier says that there are still plenty of growing pains, and she's still paying for her old space, but she's glad she made the move when she did as building costs have been skyrocketing since then. "It was the right time."