Last summer, just around the time that Krishna Khatri, OD, found out that she was expecting her second child, she also received news that unexpectedly shook the professional side of her life when Sears Canada announced its bankruptcy. She had been practicing in a sublease for nearly five years in the Windsor, Ontario, Sears store, building a patient base from scratch to 2,700 patient records. Suddenly, she needed to take action. Dr. Khatri says that she looked into selling her charts, joining other local practices, gaining a Costco lease or opening her own independent office. "I had worked hard to build up the patient base, and I didn't want to give it away," she says.
Dr. Khatri visited a space for rent—one that she had passed by many times before she had heard the news about Sears—and she says that she felt her plan fall into place. The location was just five minutes from home, one block from her son's daycare and about five miles from her Sears location. "There's 100 percent visibility on a main street with lots of free parking and a great deal on rent," she says. "I knew that if I didn't take it, someone else would." In fact, at least four other interested parties lined up behind her.
The only downside was that the space was much bigger than she needed at 5,000 square foot, and the property owner did not want to split the space. Dr. Khatri went back to the drawing board for a few months, until the owner contacted her later that summer with the news he had agreed to split the space. After negotiating the terms, Dr. Khatri signed the least in October 2017 on her blank slate of 2,000 square feet, and she shares the building with a physical therapy practice. The location had been a former Family Video store, and "it was really filthy with dirty walls and carpets, so we had to start from scratch," Dr. Khatri says. She designed the space herself to keep expenses down, and she hired a local architect to prepare the drawings for the permits.
Dr. Khatri wanted the office to have a modern look that wowed patients when they walked in, describing her dream space as calming, open, bright and welcoming. The front two walls of the office are windows, letting in a lot of natural light but posing a challenge in that most optical cabinetry is designed to be mounted on a wall. "I found alternative options, got lots of quotes and finally built freestanding walls in the optical that feel like an art gallery."
Organization was a top priority in her office space and flow. "I knew we would get busy fast because this wasn't a complete cold start," she says. There are separate areas for pretesting and special testing and contact lenses, and there's also room to grow: one exam lane is fully in use, and she has half of the equipment for a second, and there's space for a third room. There's also a staff break room area where "employees can eat lunch or take off their coats and change their shoes in the winter." She kept her staff from Sears with her, who previously and continue to work on a part-time basis, and she's also hired a new full-time team member.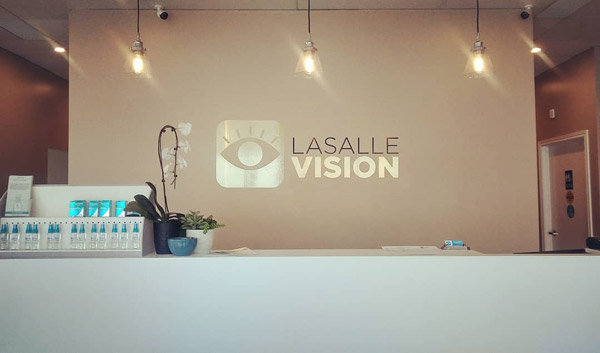 Dr. Khatri says that she lucked out with instrumentation. "Half of it was just given to me," she says. Sears did not want to remove the equipment in her former office when it closed, so it gave her two stands for her exam rooms, frame boards and a slit lamp. She also added some purchases of her own, including an autorefractor, tonometer, visual field and retinal camera.
Dr. Khatri worked her last day in the Sears location on Dec. 16, 2017; gave birth to her second son on Jan. 7, and was open to see patients at LaSalle Vision by the middle of February. "It was almost two months that my patients didn't have anywhere to go for their care, so I felt that I had to be back," she says. The extra exam room was transformed into a nursery for those early months. Dr. Khatri thanks her mom, who came in with her to the office on her first days back to help with the baby while she saw patients. Now the baby is home with a babysitter, and Dr. Khatri is close enough to visit him during her breaks throughout the day.
"I am so happy I did what I did," she says. "As Sears was closing, I knew my patients would be looking for a new place to purchase their eyeglasses. I wanted that to be me instead of someone else." She's seen a good response from the community in her first few months and is already seeing a profit. So far, she says that she's seen about 50 percent of her previous patients in the new space, who she alerted of the move via signage in the old office, new business cards, mass emails and postcards.
After a six-month break, she's also back one day per week at an ophthalmology practice where she worked prior to her baby's birth. "That position keeps me more aware of the medical aspect of optometry," she says. She looks forward to adding some specialty services such as orthokeratology and myopia control to her own office as patient volume grows.