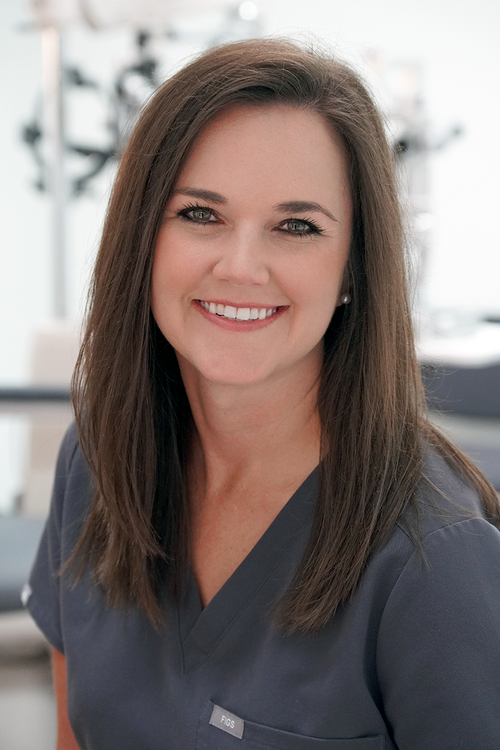 In the heart of Attala County, Mississippi, Lauren Eaton, OD, has given Attala Eye a complete facelift. She took over the practice—originally Cochran Optical Dispensary– from Leigh and Gary Cochran in June 2023. The practice had acted as a sort of time capsule to its opening year of 1987, until Dr. Eaton and her husband Luke took over and redid the space.
NEW LOOK, SAME QUALITY CARE
The standalone building had become known in the community as a great place to get frames. She even was fitted for her first pair of glasses at age 9 by Leigh Cochran. Dr. Eaton saw an opportunity to make the practice her own  when the Cochrans contacted her and said they were ready to retire. After commuting an hour each way to her associate OD position for seven years, Dr. Eaton jumped at the chance.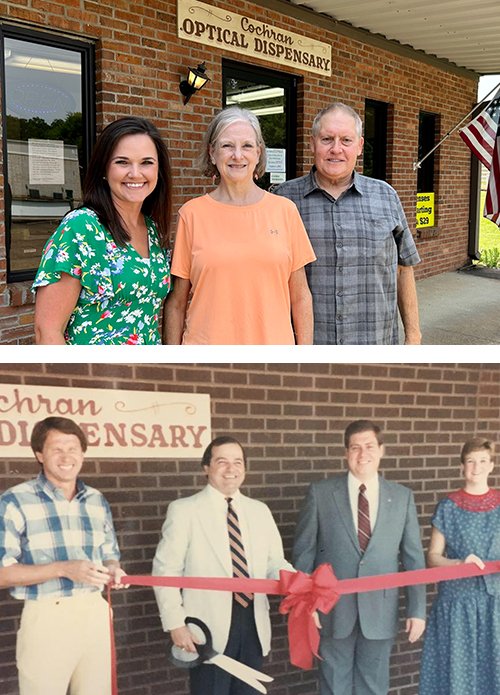 The original optician office was one of three units in the building and did not have an optometrist on site. The middle unit, previously vacant, held the key to expansion. Driven by their vision and a shared passion for making things new, Dr. Eaton and Luke, with a background in graphic design, embarked on a journey to redesign the space. Walls fell, doorways widened and a hallway emerged, breathing new life into the building.
 The result was a doubling of square footage to 1,600 square feet. Her husband was a pivotal part of this transformation, Dr. Eaton says, and they relished the process of redesigning together.
Sherwin Williams paint, acquired at a discount and from the store "conveniently across the parking lot," adorn the walls in white, while beige trim provides a subtle contrast. The countertops were remnants, also helping keep costs down. The name, "Attala Eye," is a nod to their local roots in Attala County.
GET THE LOOK
Walls: Pure White (finish: Velvet)
Trim: Anew Gray (finish: Velvet)
Accent walls: Rookwood Blue Green (finish: Matte)
The interior layout features an in-house lab, an exam lane, Dr. Eaton's office, a contact lens room and a welcoming reception area. When it came to equipment, Dr. Eaton brought in a mix of new and second-hand items, including a refurbished phoropter and slit lamp. Pretesting was made efficient with the addition of an autorefractor and autolensometer.
A COMMUNITY EFFORT
"I couldn't have done it without my husband," Dr. Eaton says. "He often was here late into the night or on his lunch breaks from work." He built the reception desk, installed plumbing, laid new flooring and more. "He did everything but paint," Dr. Eaton says.
She says they enjoy "making things new together," which included finding furniture at local flea markets and on Facebook Marketplace. Creative thinking kept costs in check, Dr. Eaton says, allowing them to offer quality service with affordable pricing. "We are a tight-knit community, and I wanted to keep that feel."
In August 2023, the transformation was complete, and Attala Eye was reborn. A ribbon-cutting ceremony marked the official opening, and many of the original customers of the Cochrans were excited to now get their eye care, too, Dr. Eaton says.
In September, Attala Eye was named Business of the Month by the Kosciusko Chamber of Commerce. The Cochrans stayed on as opticians for Dr. Eaton, with Gary manning the on-site lens edger. A dedicated pediatric frame section ensure her younger patients—including her three boys—can find what they need, too. "It really was a team effort."
For more information, visit Attala Eye on Facebook.
To check out more design inspiration stories from WO, click here.
Have an aesthetically pleasing practice? Get featured– email us here.