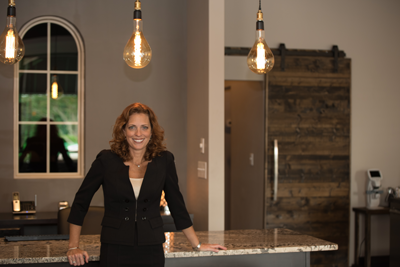 By Crystal M. Brimer, OD, FAAO
In 2015, I scouted out the perfect practice location for Focus Eye Care in Wilmington, North Carolina. While Wilmington is a young, vibrant town full of beach tourists, it is also home to a lot of retirees, so there is great diversity. Years ago, I opened my first practice cold, and though that location still had a Wilmington address and is not far away in miles, it felt like a different world compared to my current location. Ultimately, I sold my first practice and made a slight detour in my career path towards optometric lecturing and consulting, but couldn't stay away from private practice for long.
There was a lot of give-and-take in my search for the perfect space. Real estate prices made finding a spot in my ideal location challenging, and it was a constant tug and pull between customer exposure and patient convenience. Originally, I considered being within Wilmington's only premier outdoor shopping center. While it offered significantly more visibility and walk by traffic, its parking lot is often jammed and it didn't quite mirror the relaxed atmosphere I had envisioned. Ultimately, I chose a slightly less visible shopping center that backs up to the only gated community in the area, with over 1,700 homes. The Landfall residents don't even have to enter the main road to access the practice, and the local businesses still attract significant foot traffic. This is the population we wanted to target from the beginning—we're not trying to get people in and out on their lunch hour. We want to deliver a unique and tailored eye care experience that far exceeds any of their past experiences, as well as their expectations. This space was perfect for the business model I wanted to create. These local patients want the type of care I've always wanted to deliver…they want the whole hour! So finally, after over 15 years in practice, I've found my home with them. Though it's a little less exposure, the location offers a perfect mix. It's convenient for stopping in quickly or frequently, and people feel a sense of local community here. And as icing on the cake, being just a mile from the beach means that we can attract tourists as well.
After signing the lease in April 2015, I had the entire space gutted and spent four months carrying out the vision I had created in my mind. I designed every inch of the office, and did so with a single theme in mind: the patient experience. I focused on every detail of the plan, from the unique character of each vessel sink, to the recessed sample cabinets, floating granite, surround sound, and the inspirational words on the wall of each room. I thought through what the patient sees, hears, smells, feels, and even tastes throughout the space. It is such a comforting and welcoming space that patients and reps alike compliment it every day. They say, "It just feels good here. It feels like home." The office was designed around a business model and a mission.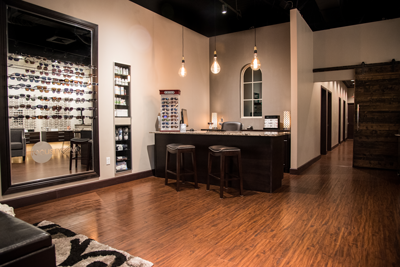 The front desk is made from the most beautiful piece of granite I've ever seen, and with the accompanying bar stools, patients feel like they're sitting at their kitchen table chatting with friends. This is not just a touch of home, but a touch of personality and warmth incorporated into an office environment. We didn't feel comfortable with a "fitting table" separating us from the patient so instead, we have comfy statement chairs and a side table. For eyeglass repairs and adjustments, we have a large stainless tool chest with a custom butcher-block top and 2 bar stools. This set up emphasizes the technical skill of the optical staff, while encouraging engagement as the patient bellies up to the Service Bar. These intentional design choices make the experience so much more personable and unique that patients quickly become like family. And because we have the most innovative equipment in the industry, patients don't have to compromise in order to indulge themselves in the atmosphere.
Our boutique-style optical is already filled with designer frames, but as the business grows, we will incorporate more exclusive styles. We have something for everyone, but what truly differentiates us is the experience we offer. The lower volume, high impact style has the practice's multiple pair sales approaching 90 percent. We create a sense of loyalty before patients ever get to the optical. This loyalty starts on the phone, is enforced by the atmosphere of the office, and then nurtured by the relationships with the staff. Once there, they genuinely want to buy from us. They want to support us because of the bond that has already been created. I even have patients who take ownership in the growth of the practice, as they seek out friends to convert into patients.
As expected, high expectations for the patient experience can cause stress for the staff, so I included office elements that would create a better work environment. For example, the staff has a full break room with a kitchen and a private bathroom, and for a breath of fresh air, they can step outside to soak up the sun behind the office. There are also many little touches, such as a tinted palladium window between the optical and the pretest/admin room. This way the clinical staff can see out and come to the rescue if the front office gets too busy.
In less than a year, our reputation has grown in the community. I have patients who stop by to share a cup of coffee, or interrupt their dog walking just to come in and introduce their pups. Currently, the practice receives widespread referrals for our focused dry eye treatments and we offer cosmetic care as an added convenience and luxury to our unique patient base. A new partner, Eric Bryant, OD, was welcomed to the team at Focus Eye Care six months after opening. Dr. Bryant plans to add sports vision to our list of specialty care.