Two years ago, Beth Groninger, OD, was attending a PRIMA meeting with her office manager, Therese Cochran. They sat down with Nathan Hayes, practice finance consultant, and Dr. Groninger explained to Hayes that her office was crowded—maxed out with no room for additional tests and patients and booked out weeks in advance. After having Hayes run some numbers, they determined that Dr. Groninger was running twice as many dollars per square foot than average practices nearby. "He told us we needed a new building right away."
On the trip back home to Plainfield, Indiana, Dr. Groninger began seriously weighing her options. "I truly wanted to build my own space because I couldn't build on to my existing building. I would have if I could, because we remodeled six years ago," Dr. Groninger explains, which was just before she purchased the final 50 percent of the business from its former owner. But the former location was in a flood plain, and she would have had to lift the building and redo the foundation. "That wasn't practical at all."
The former office of Plainfield Eye Care
Luckily, a lot was available around the corner, just a half mile from door to door on a main street in Plainfield. It was owned by the bank and on plenty of space at 2.88 acres. "I went to my bank representatives and asked if they would be on board with this project, and they were behind me 100 percent," she says. She liked that the size of the land would give her flexibility for the future with an ever-changing economy and health care system. "I have an extra acre to sell or build on."
Dr. Groninger worked on her design for the new home of Plainfield Eye Care, cutting pieces of paper to arrange exam rooms, and her architect took her vision to make the final blueprint. She more than doubled her space to 6,600 square feet in the new office, including room for seven exams, as opposed to four in her old space. All of them are furnished, and there's even a separate waiting area in case there is a delay, yet Dr. Groninger says it isn't used too often since efficiency has improved in the new space and patients flow easily from the four pretesting bays to the exam rooms without a long wait. That's helpful for her as well as her associates, two full-time and one part-time.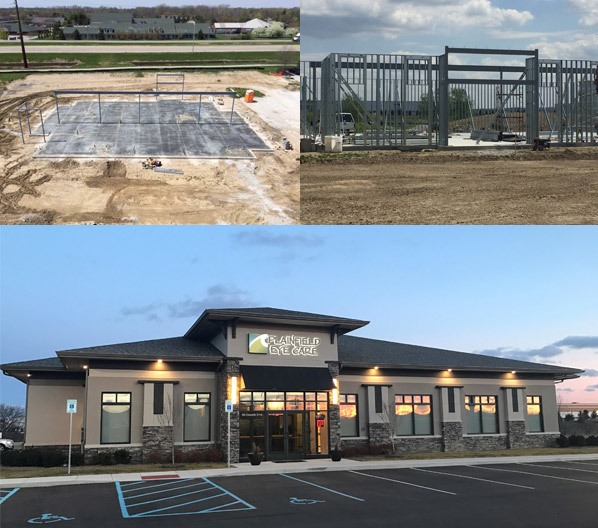 A woman who worked with her architect assisted Dr. Groninger with decorating, by reviewing her Pinterest page and finding pieces that would complement the new space with earthy tones. Dr. Groninger said she spent a lot of time picking out the stones that are meticulously placed behind the front reception desk. "That's the feature I get the most compliments on," she says. That wall and the wood-grain ceramic tile in the waiting room were two splurges on the project but are very well-received details that contribute to the peaceful environment.
She was able to repurpose some of the frame boards, and Dr. Groninger is thankful to Cochran, whom she has worked with for 23 years, for coordinating the final details of the move. An extremely neat and organized moving company helped simplify the process last September, and the movers took the labeled bins and crates and relocated to them to their new areas in the new office. They closed the doors at the former space on a Thursday, and were seeing patients by the following Tuesday. In total, it took just about one and a half years from the conception of the idea to the new opening. Dr. Groninger also gives kudos to her project manager, who coordinated details with her builder and was a great second opinion and representative throughout the inspections and entire process.
There are some similarities in the style from the old office to the new, such as the calm, earth tones used, but Dr. Groninger says that the biggest difference is in the open floor plan. "It was much smaller and darker in a closed off space without a lot of windows," she says. "The new office has ceilings that are 14 feet tall, and it's a very big space compared to what we are used to." It makes an outstanding new impression to patients, especially those who have seen her for years, and Dr. Groninger says that their feedback has been overwhelmingly positive.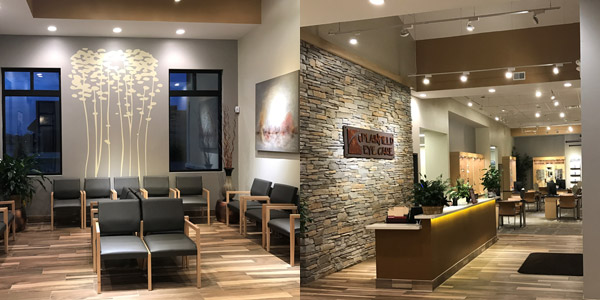 Tip: Delve Deeper Into Property Tax Details
Dr. Beth Groninger recommends learning all the details regarding property tax abatement early on. "That was one thing I wish I knew because it was a residential zone property on a variance, so when I started I was paying residential rates," Dr. Groninger says. Now the rates have transitioned to a general commercial rate, which is much more.