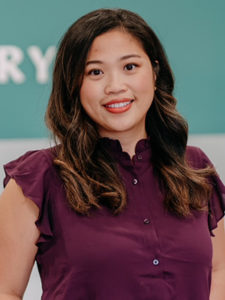 During her undergraduate studies at University of Nevada Las Vegas, Anne Valdez, OD, took a job in an optometry office as a technician to see if it was the path she wanted to take. She worked in an Optic Gallery location, which is one of several practices owned by like-minded, private practice ODs in the Las Vegas area. "From working in the office, I saw that there was a lot you could do with this profession—from the opportunity to own a business, the technology involved, medicine and fashion," she says. "Optometry was a crossroads for all of those interests." She spent time as a tech and at the front desk, working part-time hours during her school semesters, as well as over the summer.
She took a break from working when she started at Southern California College of Optometry, joining the school's private practice club and becoming president by her second year. "Networking with the presidents from different schools and meeting so many private practice owners solidified my decision that ownership was something I would be interested in."
When she graduated in 2018, Dr. Valdez had just finished up a rotation with an ophthalmology group and had realized she wanted to return to working with Optic Gallery. She recalled a sense of satisfaction among the doctors that resonated with her. "It seemed like a good fit for how I wanted to practice—as full scope as possible with the ability to expand into different specialties," she says, adding that she's particularly interested in specialty contact lens fittings. She appreciated that there was also the built-in support of her mentors in Optic Gallery to lean on if she needed, as well.
Dr. Valdez returned to the office where she had been a tech, this time as an associate OD and worked there leading up to the summer of 2021, when she says that she decided she was open to the idea of owning her own office within the group. "It was an easy decision for me knowing the values of our group and how we put patients first." It had been a goal for five to 10 years out of school, but her timeline quickly accelerated to four years as they helped her scout out an office location.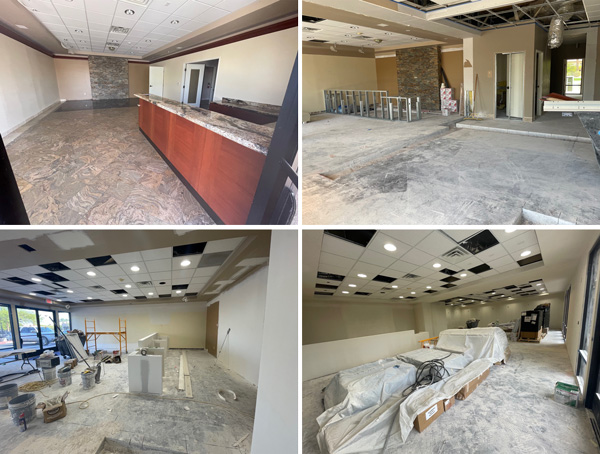 Her search started in January 2022 and by the spring, she had finalized on a location. Dr. Valdez was happy for the opportunity to stay within Henderson, the neighborhood where she grew up and just a few miles from her childhood home. "It was really important to have that sense of community," she says.
The space is in a professional plaza and is 2,600 square feet, allowing for a spacious optical and room to grow. "I wanted it to be more of a boutique optical with a comfortable shopping experience, where patients wouldn't feel too boxed in or crowded." It had previously been a chiropractor and weight loss center that was very dated to the early 2000s in its style, she says. The demolition work opened the front of the space, but she kept the rooms in the back of the space. The build out took about three months leading to her opening in September 2022.
The space is light, airy and luxurious with glass displays and floating shelving displaying the eyewear. There's room for three exam lanes and one is set up for now. She hired two opticians and a receptionist who doubles as technician.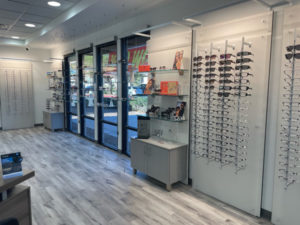 In her first few months, Dr. Valdez was focused on marketing to neighborhood businesses, creating an appealing website to be visible to potential patients and building a collection of reviews that would encourage others to come to her office. From growing up in the area, she has many connections from her family to former classmates as well as those who attend her church.
Dr. Valdez looks forward to growing her specialty contact lens fitting segment of the practice and potentially expanding into dry eye services. She would love to add an associate to the practice, as well, who can help the practice thrive when the time comes to start her own family. She's thankful to her colleagues who helped build up her confidence to take this leap.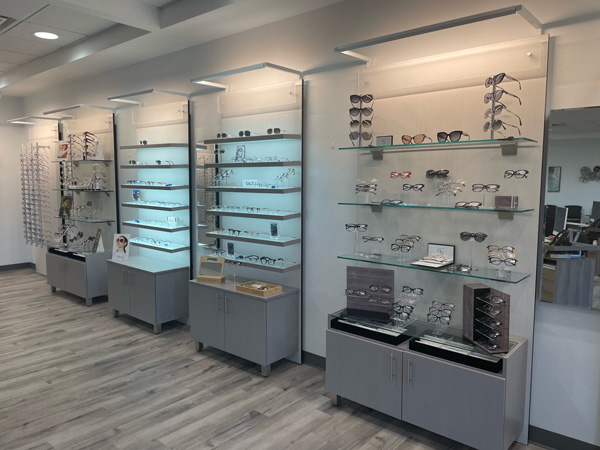 Read more WO practice design stories here.