Diverse group offers insights to promote contact lens benefits, healthy wear and care habits among their U.S. colleagues
The Contact Lens Institute has named 13 women as 2023 Visionaries. The diverse group represents a range of practice settings, research interests and specializations, with members based in cities and towns across the U.S.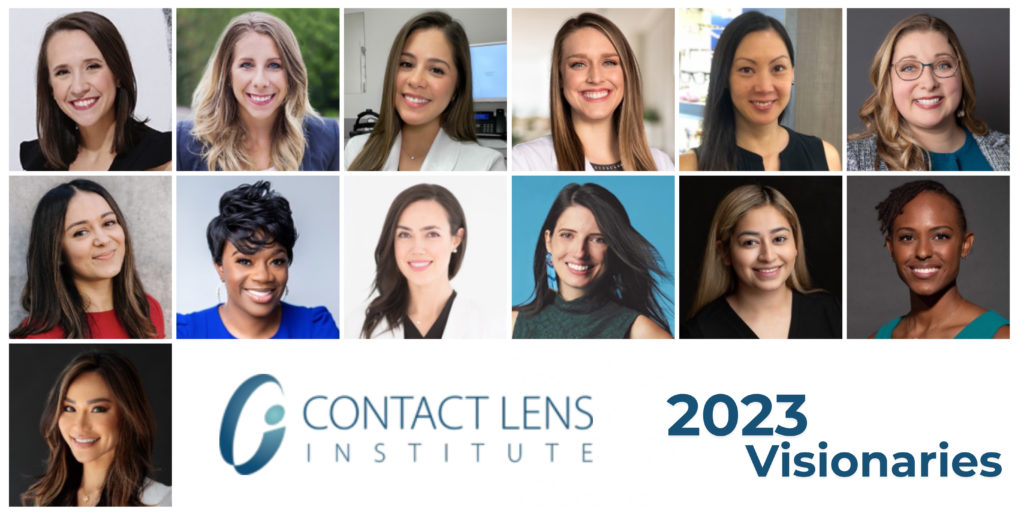 Each Visionary has demonstrated a commitment to raising awareness of recent advances in contact lenses and prescribing benefits to the patient and practice. Selected in part for their ability to connect with professional colleagues, they will participate in initiatives that promote best practices, tools, data, and clinical and practice management insights through the Contact Lens Institute's The EASY Way and See Tomorrow initiatives.
The 2023 Women Visionaries
Shelby Brogdon, OD, McFarland Eye Care, Little Rock, Arkansas
Ariel Cerenzie, OD, FAAO, FSLS, Charlotte Contact Lens Specialists, Charlotte, North Carolina
Angelica Cifuentes, OD, Blinking Owl Eyecare, Marino Eye Care and Bye Dry Eyes, Miami, Florida
Jade Coats, OD, McDonald Eye Associates, Fayetteville, Arkansas
Sabrina Gaan, OD, Eyes on Plainville, Plainville, Massachusetts
Lisa Hornick, OD, FAAO, Stanford Ranch Optometry, Rocklin, California
Mila Ioussifova, OD, FAAO, South Waterfront Eye Care, Portland, Oregon
Essence Johnson, OD, FAAO, Black Eyecare Perspective, Dallas, Texas
Inna Lazar, OD, Greenwich Eye Care & Pro Eye Care, Greenwich, Connecticut
Jennifer Lyerly, OD, TrueVision Eye Care, Raleigh, North Carolina
Diana Mejia, Bellaire Family Eye Care, Bellaire, Texas
Dana Shannon, OD, FAAO, Vision Salon Eye Care Associates, Blue Island, Illinois
Jennifer Tsai, OD, Line of Sight, New York, New York
| | | | |
| --- | --- | --- | --- |
| Andrew Bruce | Dr. Klaus Ito | Patrick Sayo | Dr. Mark Schaeffer |
Four men were honored as Visionaries: Andrew Bruce, LDO, ABOM, NCLE-AC, founder of ASB Opticianry Education Services in Vancouver, Washington; Klaus Ito, OD, FAAO of Ocean Park Optometry in Santa Monica, California; Patrick Sayo, technician at tDrs. Farkas, Kassalow, Resnick and Associates in New York, New York; and Mark Schaeffer, OD, clinical field manager at MyEyeDr in Birmingham, Alabama.
ADVANCING CONTACT LENS ROLE
"Now in its third year, our Visionaries program has been instrumental to advancing the role of soft contact lenses in eye care practices throughout the nation. Peer-to-peer sharing of practical advice stemming from personal familiarity is invaluable, and our honorees have demonstrated a mastery of that indispensable skill," says Stan Rogaski, CLI's executive director. "For 2023, we have also invited members of the opticianry and technician community to join the program, affirming that providing patients with optimal contact lens experiences extends to everyone on the eye care team."
The Contact Lens Institute advances the latest innovations in safe and effective contact lens and lens care products and services that provide unique benefits to patients while satisfying the evolving needs of eye care professionals. CLI undertakes activities that properly assess, enhance, promote and balance contact lens and lens care industry welfare and growth, including the safe use of products in the marketplace. Its members include Alcon, Bausch + Lomb, CooperVision, and Johnson & Johnson Vision. For more information, visit contactlensinstitute.org.