This June, Kristi Kessler Williams, OD, and her husband and business partner, Jim Williams, held a grand opening celebration for the relocation of Eye to Eye Optometry, in Mexico, Missouri. The high school sweethearts opened the practice in 2000, in this town where they grew up.
They started searching for a new location in 2012. The two know the area very well—"Jim and I rode our bikes all over every street growing up here," Dr. Williams says—but they hired a consultant for an unbiased opinion on the best location. The consultant recommended purchasing a piece of land and constructing an all-brick, 100-year building, which held a whopping price tag of $900,000. They didn't follow his advice since there were plenty of vacant spaces in town.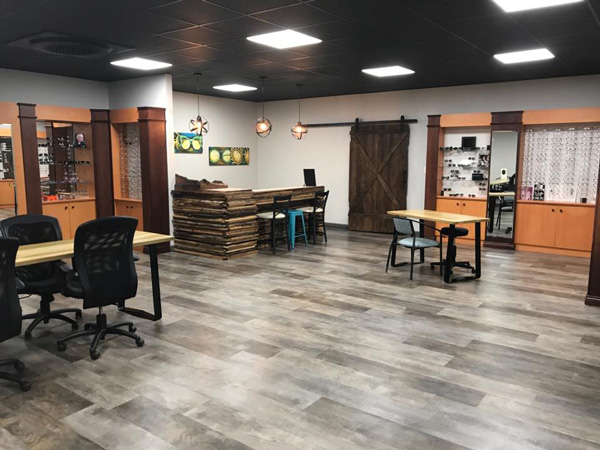 Then they put the move on hold when an opportunity arose to purchase a satellite office. "We thought it was meant to be, but it was a horrible nightmare," Dr. Williams recalls. They sold it by 2015 to start their real estate search again, focusing on existing spaces such as the old Coca Cola bottling plant—"pretty but no parking"—and a computer IT business office space that lacked character. Then they toured the former Arthur Center, a downtown building originally constructed in 1970. It wasn't much to look at it, but it offered a lot of space. They negotiated a deal with the owners, so they could afford to replace the HVAC and windows. "We didn't have a huge budget, but we made the best of it."
By spring of 2017 the building was theirs, and the transformation began. They started introducing themselves to the neighbors. One of those was a forbidding warehouse across the street with a number of No Trespassing signs. They learned it was the home of Greener Lumber, founded by Rich Petty, who harvests 200-year-old tropical hardwoods from the bottoms of rivers in Belize. His mahogany and rose wood are highly sought after and often sold to guitar manufacturers.
His unique work is now in the practice's reception area bar, which includes recharging stations for patients' phones. It was a design element inspired by their children. "We have teenagers," Dr. Williams says, laughing. "How many times have we heard, 'What percentage are you on?'" The wood is also incorporated in the dispensing bar.
Petty provided planks of several different species that Dr. Williams stacked to create a unique facade. The pieces had to be glued together since a nail gun couldn't penetrate the hardwood, especially the variety called Bullet tree. "We get a lot of compliments on that bar; it's really striking," Williams says.
Chris Doolittle of Doolittle Woodworks and Petty worked together to construct a beautiful waterfall bench, which features a thick plank of Santa Maria wood with live edges. They also collaborated to create the practice's conference table, a slab of wood with a creek running down the center. Epoxy and rocks the Williams family picked up hiking over the years were used to create the creek.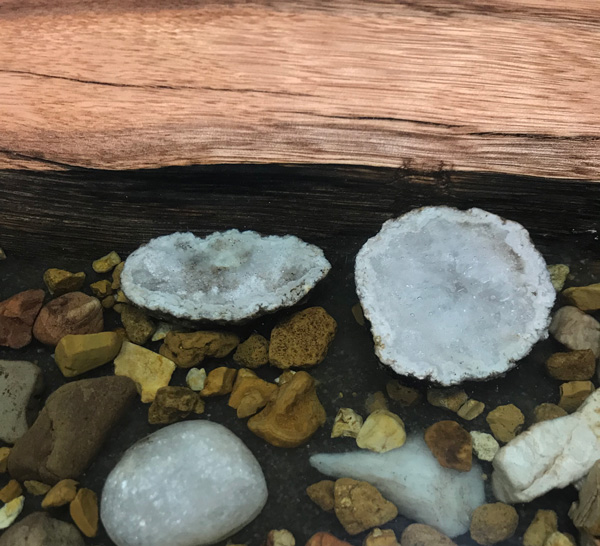 The space had previously been split into a bunch of smaller offices, so they opened it up, gutted the front third of the 4,800 square feet and rehabbed the rest. They're thankful to their kids, niece, nephew and friends who pitched in to fill multiple dumpsters. They saved some elements, such as the old door frames that Williams repurposed into their dispensing tables.
Old barn wood from Dr. Williams' long time farmer friend, Bruce Boyes, were used to spell the word LOOK on a reception area wall. The L and K were made from the barn wood and the two Os are represented by tires from a 1952 Schwinn bicycle. Boyes also contributed a huge 100-year-old barn door that graces the dispensing area.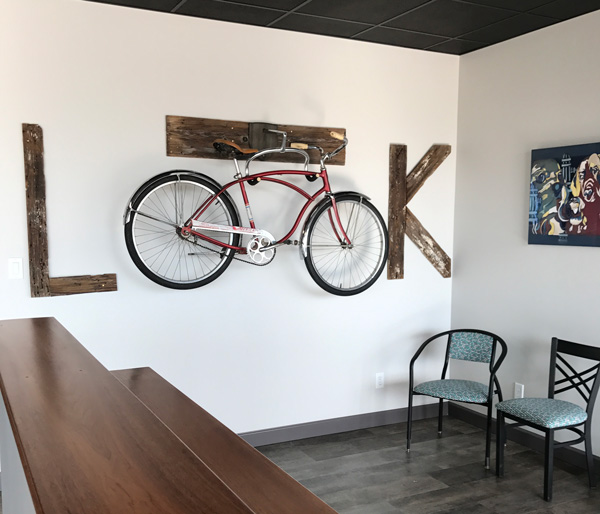 The ceilings were replaced with black tiles and framing, offering a cool effect, as does the white rock wall behind the reception desk. The contractor John Mundy taught Dr. Williams how to cut lengths of tile so that she could build the wall, not unlike a game of Jenga. A black steel logo is mounted on the wall and backlit with LEDs.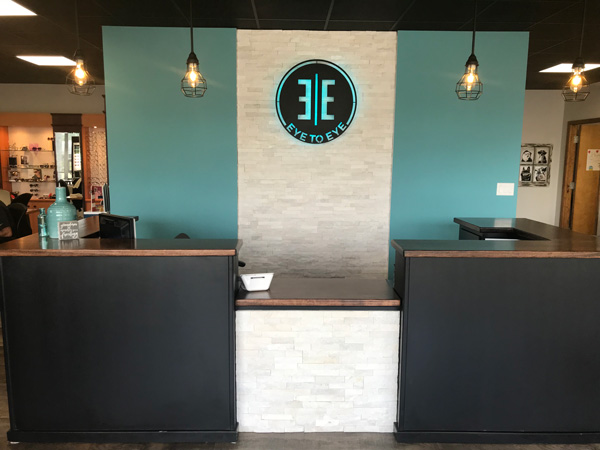 Williams is a self-proclaimed frame junky, so he wanted a special way to display his higher-end, luxury lines. When Dr. Williams' father was getting rid of an old pool table, they painted it black and incorporated it in the dispensary. Williams uses cue sticks to support frames, highlighting the Vinylize brand there, which can turn your favorite vinyl records into a pair of eyewear, as well as the colorful Kirk and Kirk line.
Dr. Williams was thrilled to finally have space to add an OCT, and with four exam rooms, a retina specialist as well as a cataract surgeon rent space monthly. She expects to begin her search for an associate OD soon.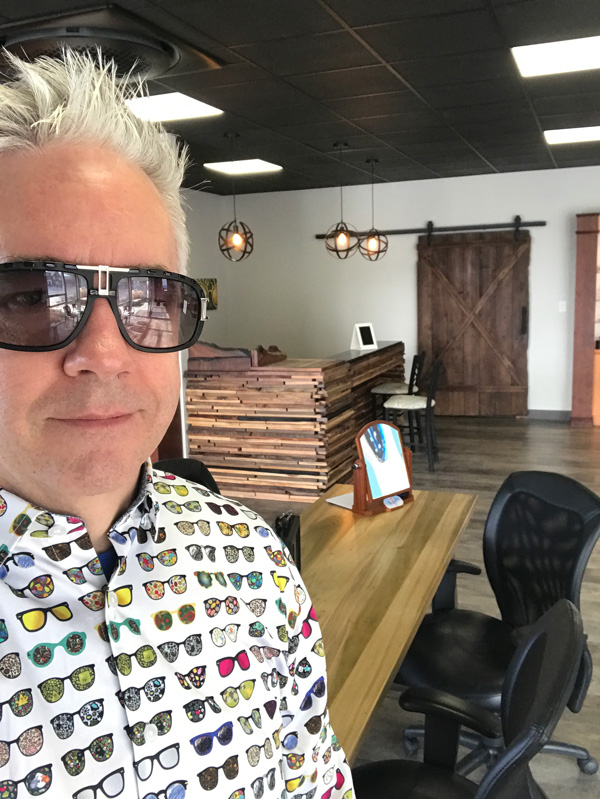 It's a humbling new beginning for the business, which started with 1,300 square feet and one exam room. They've built patient loyalty and longevity, with some of her first pediatric patients now bringing their own children in.
The couple says that they hope their experience inspires others to keep reaching for their vision even if they are on a tight budget. "If you have a knack for interior design, you don't necessarily have to pay someone a whole lot of money," Williams says. "People come in and are wowed when we say we did this ourselves."