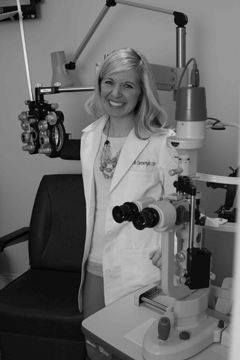 Two years ago, Ehryn Cartwright, OD, finally had the opportunity to open her own practice in the Mariemont planned community in Cincinnati, Ohio. In fact, about eight years ago, she set aside a copy of the September 2006 issue of Women In Optometry magazine because it included photos of a practice setup that she liked. "I knew I was going to have my own office one day," she says. She and her family lived in Mariemont, but for the previous six years, she had been driving into northern Kentucky to work there. "I was establishing relationships with people in the community where I lived, but I was practicing 30 miles away," she says. She wanted to work closer to home and also be more involved in school activities as her children, now 3 and 5, entered the school system.
She noticed a small storefront for rent right on the town's main square, all built in a distinctive Tudor style. "My husband and I had entertained the idea of opening a practice, but we thought that at 775 square feet, this would be too small or the rent might be too high," she recalls. Once she saw the space, though, she realized she could make it work with some creativity and some hard work. "It had been a chiropractor's office, and I reworked the entire layout. I knew that there are successful practices in places like New York City where they don't have 2,000 square feet. And I knew what I needed. I can't tell you how many different sheets of graph paper I went through moving the parts around," she says. Working with Barbara Wright Designs, she has created Eyecare on the Square, a space with two full exam lanes, advanced equipment, including an optical coherence tomography unit and visual field, and a full dispensary with about 500 frames.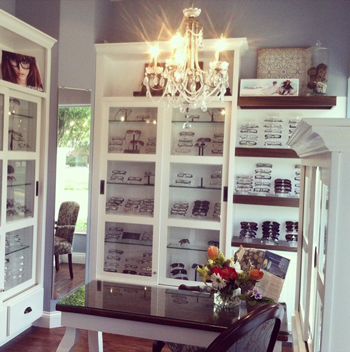 "What I gave up was an administrative area and a kitchen. I would love to have a kitchen so my two employees can bring their lunches," she says. The office does have a mini fridge and there's a microwave tucked in under a cabinet in the contact lenses area, which is the size of a small room or a large closet. Her computer is set up on a counter in that same area.
Dr. Cartwright says that business is growing. Each month this year has been about 30 percent higher in revenue than the year before. She just hired her second employee, both of whom cover the range of nonclinical tasks. Dr. Cartwright, for now, handles the pretesting and exam procedures. "As we grow, I'd love to get a technician, but for now, I like spending the time with the patient. I get to know patients a little better, and I think that's helping our growth. They know they're getting a thorough exam."