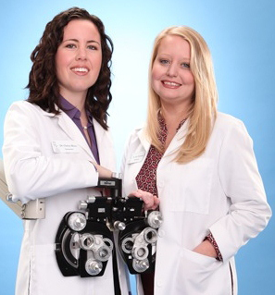 Christy Hayes, OD, and Kim Folwarski, OD, were friends during their time at University of Missouri-St. Louis College of Optometry, where they began to talk about opening a practice together. After they graduated in 2011, that's just what they did.
They honed in on three upscale suburbs of St. Louis and began scouting out locations. They found a 2,700-square-foot shell in Wildwood, and the location was ideal. It was next to a dentist's office and right along a main road to ensure great visibility. Another attraction was that it had a huge parking lot, which the city uses as a base for regular movie nights, concerts and periodic barbeque bashes. "We go out and help serve beer or hand out candy or whatever we can during those events," says Dr. Folwarski.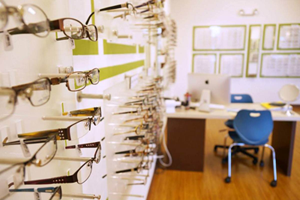 Because they were brand new graduates, their budget wasn't large but they used their resources wisely. Dr. Hayes has "many talented artistic friends," one of whom created the Wildwood Vision Specialists owl logo and another who is an interior designer and worked with the architect to create a clean but modern look. "At one point, we realized we didn't budget for frame boards," recalls Dr. Folwarski. "You can spend a lot on frame boards!" So they got creative. They found inexpensive boards that could be ordered to specified dimensions. Then their designer friend showed them how to tape the walls and paint a decorative faux frame right on the wall where the frame boards would be hung. "We did it all for under $5,000—and a Saturday afternoon of painting," she says. Another artist friend created the eye art that is seen in the reception area, contact lens area and in other places.
The office has two exam lanes and a third exam room that can be equipped. There's even a fourth room that could be turned into an exam lane in the future. There's a pretest room and a large contact lens room with storage space they thought they'd never outgrow (but they have). A striking circular reception desk sits midway between the reception area and the optical dispensary. Dr. Folwarski also provides vision therapy services, so there's a room for that, as well.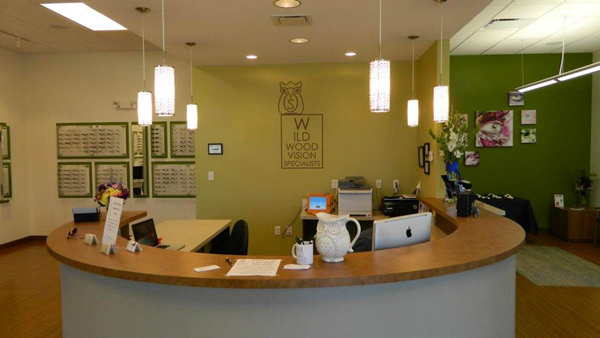 Right now, each doctor works in the office three days a week, allowing for six full days of doctor coverage. They each work in other places as well, as their business continues to grow. They meet together monthly and hold a staff meeting at least once a month. The fact that they combined their resources and time enabled them to push the practice forward more quickly than either thinks she could have done on her own. "We complement each other very well. We've found what we like to do on the business side, and it helps to have someone to share this with. People always say, 'Don't go into business with friends,' but we've been able to grow the practice and remain close friends.