When Lindsay Loock, OD, purchased her practice in 2008, she knew that its existing space would work temporarily. "I made it a goal almost immediately to be able to move to a newer and larger space when that lease was up in five years," Dr. Loock says. "I always had the goal of designing my own space with finishes that more suited my style."
Dr. Loock's sister, Mallori Aschenbrenner, OD, started optometry school around the same time that Dr. Loock purchased the practice. As Dr. Loock's lease was up, Dr. Aschenbrenner was graduating and joined her sister as an associate, working 1.5 days a week in the old office. "The timing worked out well to move to a larger space in order for us both to work full time," Dr. Loock explains.
The search radius for a new office was small to reach Dr. Loock's goal of staying within a mile of her old office space in Highlands Ranch, Colorado. "That made the search easier but also more difficult at the same time," she recalls. She had been eyeing a shopping center near her home, and when Blockbusters closed down nationally, a local storefront opened. The space was larger than what Dr. Loock needed, so she negotiated with the landlord to split the space in half. She says that the leasing process was fairly easy overall. "I actually found the space myself but used a realtor to help negotiate the deal," Dr. Loock says. "I would definitely recommend working with a realtor who is experienced with commercial real estate deals in your area." For example, where the practice is located, in a suburb of Denver in a master planned community, there are several county and neighborhood covenants, particularly regarding signage.
With an empty shell, Dr. Loock and Dr. Aschenbrenner got to work on their half of the space, about 2,600 square feet after the landlord had a wall installed. From her past experiences at the optometry clinic at Southern California College of Optometry and photos she had collected from Pinterest and Houzz, Dr. Loock could map out a design that met her needs. "I wanted a space that flowed well from reception all the way through to the optical department, so I worked with our architect to make the space have a circular flow," she says. "That was really important to me, so it was the focus of the design."
The optical department was to be warm and inviting, more like a home than a medical office. Dr. Loock said she envisioned darker-colored wood furnishings and flooring along with stone accents on the walls, and the style mirrors that of local Colorado mountain homes and cabins. Dr. Loock was able to take her ideas for colors and finishes to her contractor, who connected her with a designer to finalize their decisions. "It was nice to have a professional to discuss ideas to make sure they would work with the overall design," she says.
The total process took between four and five months, with Dr. Loock's responsibility for renovation taking about half of the time once the landlord had completed his part. "Moving was a lot easier than I anticipated," she says. "We only closed the office for two days for the move." The pretest rooms are large enough to accommodate new instrumentation in the future, too. The new space has four exam lanes, compared to two at the old office. "It makes the flow of the day much more seamless with a two-doctor schedule. The circular design of the office really helps keep us efficient when seeing patients, as well. Patients move easily from reception, pretesting, exam, and optical/checkout areas."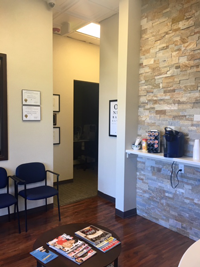 Dr. Loock installed the Marco TRS-5100 automated refraction system. "Honestly, I don't know how I practiced without it. It makes refractions more efficient, and our patients are really impressed with the new technology. We get a lot of comments about how it's nice to see we're not using the 'same old equipment' they've seen at their eye exams since childhood."
Now in the new Vision Source® office space, which has been open since August 2014, there is enough space for both Dr. Loock and Dr. Aschenbrenner to practice comfortably on a full-time schedule.