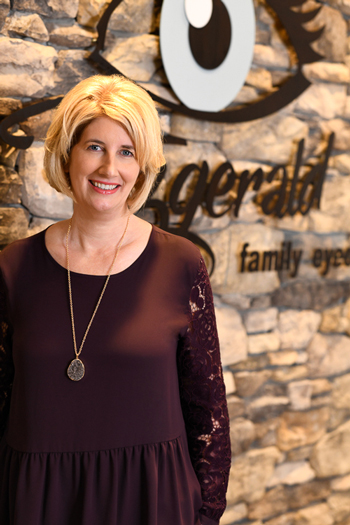 Ellen Fitzgerald, OD, and her husband, Clay Fitzgerald, purchased land in Douglas, Georgia, nearly four years ago for Dr. Fitzgerald's dream practice. In May 2017, they began the new building.
Dr. Fitzgerald started her solo private practice in May 2005. The retrofitted dental office was serviceable, but the layout pushed the optical dispensary into the middle of the building. As a result, it was not convenient for drop-in patients to view frames.
In addition, the practice simply outgrew the space. That building had 1,500 square feet and three exam lanes. Dr. Fitzgerald converted a closet into a visual field room, and another workstation had to be wedged into another closet. "There was nothing left. We were out of space. Some days, we didn't have enough chairs in the waiting room," she says. The appointment book was filled weeks in advance, while the practice ran at maximum capacity for the space, she says. "I was seeing about 20 to 22 patients a day, with 12 of those being comprehensive exams. In the new space, I have two more comprehensive exams per day, which will make a difference in the backlog," she says.
The new space has 6,000 square feet, six exam lanes, and an open-design pretest area for optomap, OPD-Scan III wave system, lensmeter, iCare tonometer and pachymeters. That pretest design will relieve the bottlenecks they previously faced.
There are separate rooms for the visual field analyzer and another for the OCT and fundus camera. "The layout is going to result in a better patient flow." Patients will also be able to access the optical area easily to browse a larger selection of frames. Except for a period of almost five years, when a dedicated associate made the four-hour, one-way trip to work in the office, Dr. Fitzgerald has been practicing solo. "I am actively looking for an associate now," she says. "The new facility is large enough to accommodate two or three doctors."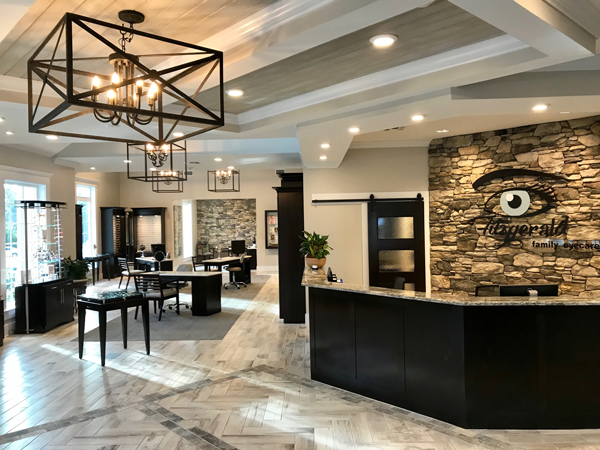 Collecting ideas
Before the couple purchased the land, Dr. Fitzgerald collected ideas, especially for the all-important dispensary. She found Fashion Optical Displays at a trade show, and the representatives showed her how they could help her achieve her mix of contemporary and traditional pieces. "We put contemporary molding on traditional furniture, and we chose pieces from different collections to create a 'transitional' design. We used glass shelves with wires and glass table tops that are suspended over frames displayed in trays," she says.
"I received great support from Fashion Optical," she says. "I carried a folder of ideas and AutoCAD drawings my husband had created for a starting point, and we sat down with the representatives. They emailed me back design layout options. Lori Estrada and her team at Fashion Optical also had no problem allowing me to work with John Glosson, my friend and personal interior decorator locally," she says. When the building construction was nearing completion, the company shipped the furniture by truck and had their representatives personally fly in to install all the displays.
She found her ideas in other places, as well. When Dr. Fitzgerald was at The Ritz-Carlton at Georgia's Reynolds Plantation, she liked the beveled glass windows that were in the resort's front French doors. She took photos, and now her guests are greeted by a similarly eye-catching entrance.
One of the new elements that she and the staff are excited about is an exercise area upstairs with jump ropes, resistance bands, yoga mats, punching bag and an elliptical. "I wanted to have that space to de-stress and hopefully become more healthy." There is also a room upstairs for her children to finish out their day after school. The kids' area she created is available to employees' kids as well.