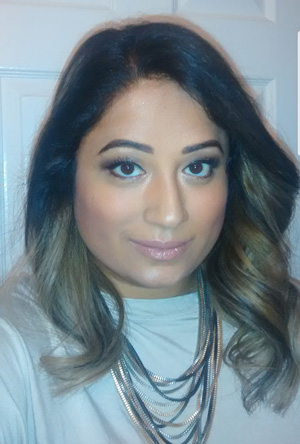 Brantford, located in southwest Ontario, is right in the heart of a snowbelt. "It's cold here at least 4-5 solid months of the year," says Sareya Khatkur, OD. So when her patients voted on the Brantford Optometry Instagram page that they wanted her to add palm trees to her new office space, she was happy to oblige. "That was a treat for me to bring a little bit of tropical vibe in to the space," she says.
Dr. Khatkur polled her followers all summer long, asking for their opinions on everything from lighting and seating to overall décor. "I'm trying to create a welcoming environment where they feel it is something special and they would pop in for a coffee or chat because they know the staff well," she says. She doesn't mind spoiling them a bit—she says that the new location is a thank you to her patients that have been loyal to her over the past 7 years.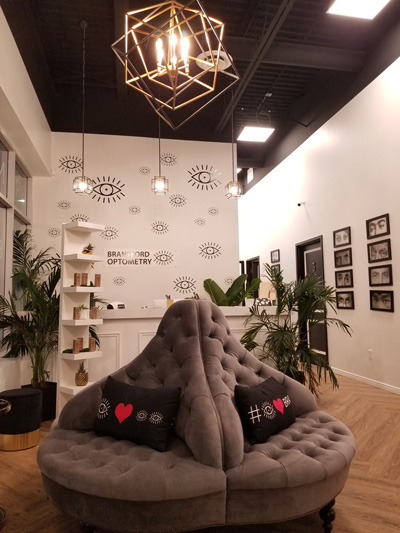 Brantford Optometry in Brantford, Ontario, is the first optometry office she had opened with a successful independent optical in 2011. She later went on to open a few others around the Greater Toronto Area. She began these businesses on the side while running her full scope private practice, but ultimately sold that practice to focus solely on patient care—instead of selling eyewear—while serving a number of communities and demographics.
As her patient volume boomed in Brantford, Dr. Khatkur made the decision last year to move to her own independent unit to gain more valuable space. She's leased an office across the shopping plaza where she can offer more availability in terms of scheduling and a more diverse range of equipment for testing. The blank slate that came with the new unit was appealing to Dr. Khatkur, who also works as a visual artist, commissioning artwork for homes and businesses on evenings and weekends. "It's tempting to make it something that I love, but it was important to me to get feedback from my community," she says. "The office itself is not for me—it's for my patients."
That's where Instagram has been a huge help, providing a direct connection to engaging patients. With her patients' feedback, she's developed a modern look that mostly incorporates blacks and whites with a large custom round sofa in a soft gray. They helped her select geometrical lighting fixtures, and they voted on the best ways to tastefully incorporate her logo throughout space: on pillows, in the reception and with custom wallpaper inspired by the Op Art movement that incorporates optical illusions in black and white. "I am trying to find visually interesting ways to incorporate my brand and logo as a part of the décor." She also is planning to have a feature wall focusing in on the eyes of recognizable icons and celebrities in black and white images and will showcase other local artists' work.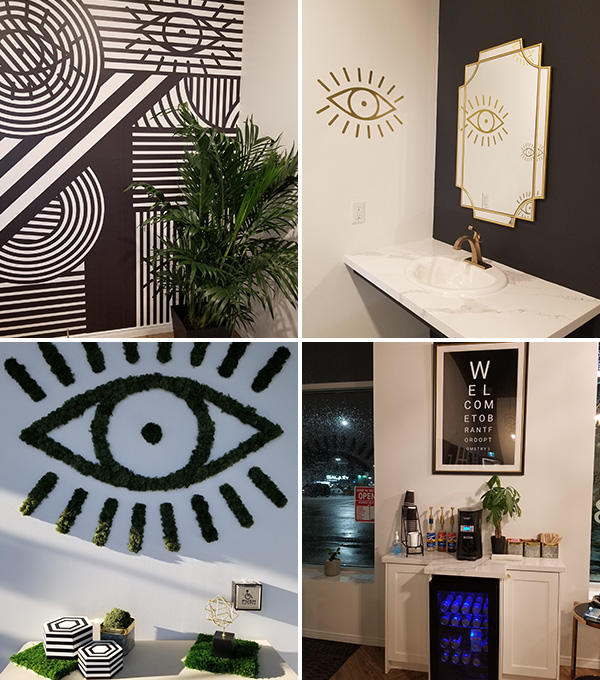 Patients in Brantford keep asking: will you start selling eyeglasses in your new location? Her answer is always no. First and foremost, she's not trying to compete with the optical that helped her grow her patient base there. She explains that there are so many avenues of optometry to explore and expand to beyond eyewear. "I'm purchasing more equipment for my patients' convenience so that I can offer tests on-site without referring out," she says. To start, she's adding an automated visual field and a retinal/fundus camera.
The new Brantford Optometry office opened in the fall of 2018. Dr. Khatkur says that the support of her husband, parents, sister and the local community helped her achieve this goal, adding that her husband Sati Sandhu has been her rock and support over the course of her eight years as a practicing optometrist and the years before that while completing her doctorate. Together, they are the heart and center of the team at Brantford Optometry: Sandhu manages the practice while Dr. Khatkur focuses on patient care.
Dr. Khatkur has hired another doctor to her team, and says that she's excited to work along side her. For now, she's splitting her time among her offices, often spending a morning and afternoon in two different locations. She hopes that adding an associate optometrist to the team will give her more time to spend in her community; working with nonprofit organizations, such as Operation Eyesight Universal, which empowers communities worldwide to improve eye health and eliminate preventable blindness; and also traveling abroad to provide eye care in needed areas.
Dr. Khatkur and her husband offer business and design consulting services for new practices including helping to establish a unique business model and brand along with providing marketing guidance and much more. Dr. Khatkur is an artist and can create a custom mural or custom artwork/paintings incorporating your logo and other fun vision or eye-related images. For more information, contact Dr. Khatkur directly at skhatkur@hotmail.com. Click here to read more about her work.