Sarah Jerome, OD, calls herself a fairly impulsive business owner. That strategy has served her well as Look + See Eye Clinic, in Minneapolis, Minnesota, has been growing since she opened it in 2004. She relocated in 2011, presumably to
"all the space I would ever need," she says, by purchasing two office condos in a three-condo complex. However, in 2016, when the occupants of the third condo moved, she had the opportunity to take over and expand once more.
Despite her tendency to follow her instincts on decisions, there was one she made slowly and deliberately: which refraction system to incorporate into her expanding practice. She ultimately decided on the Reichert Phoroptor® VRx Digital Refraction System, because she knew her patients would be impressed by the cutting-edge technology and all it had to offer. "I looked at several, but what sold me on Reichert was the virtual demo. It was very impressive," she says.
She expected the demo to be an average, basic instructional video, but one of Reichert's clinical application specialists was able
to demonstrate virtually how the Phoroptor VRx worked and show her the various applications in her office. Dr. Jerome works with
many binocular vision patients as well as those who need prism in their prescriptions. "Reichert was able to show how we could
use it to check phorias," she says, a necessary step for many of her refractions. From this, it was clear that the Phoroptor VRx was going to be a time-saving and valuable investment to her practice.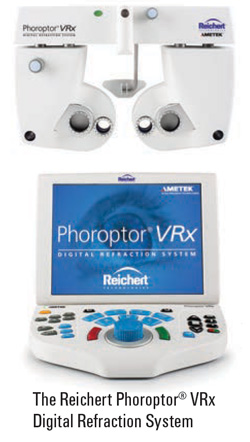 Incredibly impressive
The most significant difference that Dr. Jerome and her associate Andrea VanMeter, OD, have experienced is the ability to compare patients' old and new prescriptions with a touch of a button, resulting in an increased optical conversion rate. "It takes away that two-or-three-minute conversation about whether or not it's time to update their eyeglasses. I can show them what they can expect," she says. With the newly released software enhancements from Reichert, prescription comparisons are even more impressive with the ability to toggle the add and prism lenses in and out.
Not only are exams quicker and effortless, but the patient response has been incredibly positive. "My patients tell me that
their exam was so much faster and easier. They also note that every time they come in, there's something new," she says. Every patient who enters the practice encounters this system, so it makes a strong impression on everyone. "I'm amazed at the number of people who comment on the difference."
Exceeding expectations
Dr. Jerome understands that the patient experience is all in the details, so whether patients are picking up eyeglasses or coming
in for an appointment, they are impressed from beginning to end. Wanting to give her clientele the premium experience they desire, Dr. Jerome has not only updated her ophthalmic equipment with Reichert's innovative technology, but she has also remodeled her
physical office space as well. Many of these patients have been with her throughout the move, and when they walk in to her
newly renovated clinic, they are greeted with high ceilings, large windows, contemporary lighting and modern furnishings. Having the
latest technology is all part of the experience. The Phoroptor VRx systems were installed in the two exam rooms used every day,
and they have proven to surpass patients' expectations so much that the doctors are currently looking to install the system in their two auxiliary exam lanes.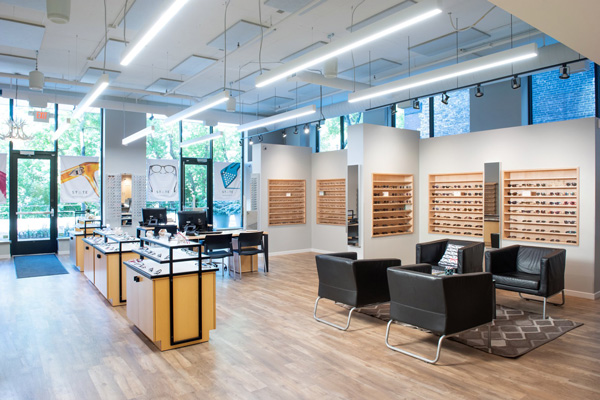 It's not surprising that the technology is a hit with her patient base, mostly 30- to 50-year-old working professionals. "Most have jobs where they are using technology constantly, so having more high-tech equipment rather than a traditional manual phoropter is perceived as being more precise. They're very positive about the idea that we're investing in their eye care experience," she says, and it shows.