Elise Kramer, OD, FAAO, FSLS, of Miami Contact Lens Institute in Miami, Florida, has a specialty practice with a focus on ocular surface disease, contact lenses and myopia management. "To achieve the best vision with contact lens patients, the eyelid must be the right position. If it's covering the pupil, we're not getting the full advantage of the prescribed optics, prism, multifocal or astigmatism correction," she says. A drooping eyelid that covers the pupil or a part of it can lead to poor performance of the lens.
At SECO in 2021, Dr. Kramer first heard of Upneeq, (oxymetazoline hydrochloride ophthalmic solution), 0.1% from RVL Pharmaceuticals, a once-daily, preservative-free eyedrop indicated for the treatment of acquired blepharoptosis in adults. She was intrigued. "I keep up with the literature, so I was surprised that I had not heard about it before," she says. She stopped by the booth, engaged in discussions with the representatives and had one come by the office. The COVID-19 pandemic hit on a larger scale around that time, which slowed her ability to introduce the option to patients.
Today, however, Dr. Kramer prescribes Upneeq regularly. About half of the patients use it primarily to increase their functional vision and half are drawn to its cosmetic lift. "I present it as a functional vision issue, but before I had it, if a patient had ptosis, I might not have mentioned the ptosis. I didn't have any options for it besides sending them out for a surgical consultation," she says. "Now, if I notice that they have droopy lids, I can discuss the impact that ptosis can have on their vision."
According to RVL Pharmaceuticals, Upneeq demonstrated three times greater improvement in visual field compared to vehicle in clinical trials (P<.01), as measured by Leicester Peripheral Field Test (on Day 1 and Day 14 of treatment).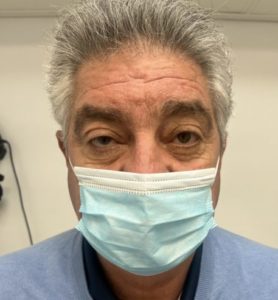 Dr. Kramer also fits patients with cosmetic lenses, so that goes hand in hand with a discussion on ptosis, she says. "Those who want to wear color lenses want their eyes to be noticed," she says. "Giving them an extra lift can make them happier with their cosmetic lenses," she says.
Sometimes even those coming in for a comprehensive eye exam notice the Upneeq poster that hangs in the waiting area. These patients may ask if it's an option for them.
Dr. Kramer takes a low-pressure approach. She has samples in the office, and she'll encourage patients to try the drop in one or both eyes. "They can see it right then and there. I don't take photos or use any kind of measuring device. I tell them that they can order it right through the office if they want it."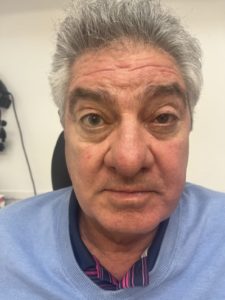 Instilling the drops before she fits a patient with a pair of contact lenses or before they go into the optical to shop for eyewear is a great practice, she says. The drops take effect, and the patient can see it while they are still in the office. "Some patients respond more enthusiastically to this as a cosmetic options and others less so. But we can give them that chance to decide," she says. In addition, it gives the patients a wholly different experience than they've had before – which creates another opportunity to talk about their visit to their eye doctor.
She has found that selling it through the office makes sense. "I like to make products that I recommend available to my patients in the office. It's convenient for patients because they don't have to go elsewhere, and they're using the products that I recommend.," she says. It's been no trouble for her staff; after all, they're already handling sales transactions for contact lenses and eyeglasses, "so why not offer Upneeq at the counter as well?"
Dr. Kramer wants patients to have the best experience in her practice and with their corrective solution. "With a drooping eyelid, the patient loses some of that performance–regardless of whether the correction is a contact lens or new eyewear. Having an unobstructed pupil is key, and so it's easy to say that I recommend they try it and see if it's something that benefits them."
If they ask whether she uses it herself, she emphatically says that she does. "I use it all the time. If I'm going out or having a day where I look tired with droopy eyelids, I will use it. I feel comfortable because of its good safety profile." Once patients hear that she uses it and see the difference it can make in their own functional vision and appearance, "the product sells itself," she says.
Read More
Slonim CB, Foster S, Jaros M, et al. Association of Oxymetazoline Hydrochloride, 0.1%, Solution Administration With Visual Field in Acquired Ptosis: A Pooled Analysis of 2 Randomized Clinical Trials. JAMA Ophthalmol. 2020;138(11):1168–1175. doi:10.1001/jamaophthalmol.2020.3812
Cahill KV, Bradley EA, Meyer DR, et al. Functional Indications for Upper Eyelid Ptosis and Blepharoplasty Surgery A Report by the American Academy of Ophthalmology. JAMA Ophthalmol. 2011; 118(12)  https://www.aaojournal.org/article/S0161-6420(11)00885-2/fulltext