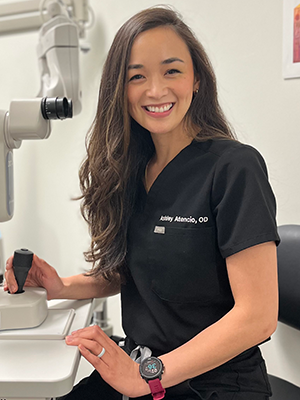 When an opportunity is meant to be, it often finds a way to work itself out. That was certainly the case for Ashley Atencio, OD, and her husband Tony Urbina, OD. They had been working some fill-in hours at a practice in San Antonio, Texas, several years ago; the office was a second location for a family owned office. After the COVID-19 pandemic hit, the owners decided that they wanted to focus on their primary location in 2021. They asked Dr. Atencio and her husband if they would be interested in purchasing the practice. Dr. Atencio says that while they saw ownership in their future, the timing just wasn't right—their son had just been born and was only a few months old.
Fast forward to April 2022, and the offer to buy the practice came to the table again. The owners had just welcomed a new child and wanted to put their second location in good hands. "Before they expanded their search and offered it to anyone else, they asked us again because they knew this community needed a family-owned optometry clinic," Dr. Atencio says. This time, with their son at one year old and their daughter at four. Dr. Atencio and her husband, who met at the University of Houston College of Optometry, were ready to consider the opportunity. "We said, 'Let's go for it.'"
It's been a wild ride since, Dr. Atencio says, from getting their LLC, preparing for the transition of ownership, changing the practice name, adding new equipment and also moving their home on top of it all so that they could be closer to the office with is north of the city of San Antonio, tucked away in hill country. They officially took ownership of their new office, Lookout Eye Care, on Sept. 1, 2022. "I'm impressed and surprised that no one is throwing in the towel," Dr. Atencio says, laughing. "We know that the end result is beneficial for our family. Our kids won't stay little forever. Our ultimate goal is a good work/life balance and treating patients just like family." In fact, the practice tagline going forward is "Welcome to the family."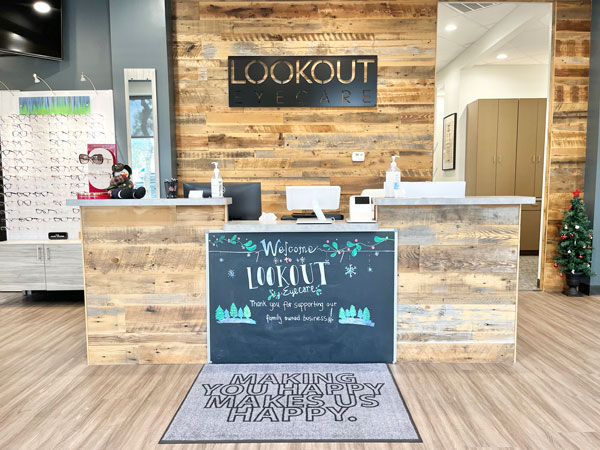 Dr. Atencio cut back her hours at the practice where she was an associate during the summer and started filling in at the practice before they purchased it so she could introduce herself to established patients. She wants them to become acquainted to working with her, as well as the personalized, slowed down customer experience that she hopes will help them build a reputation in the community, where there aren't any other competitors within a four-mile radius.
The office space is relatively new—about four years old—and just under 2,000 square feet with neighboring medical professionals. They started with one functioning exam lane and added a second automated lane late in 2022 to accommodate the growing patient base.
The look of the space is rustic yet clean. "We plan to keep those touches there and also modernize it in a way to practice full-scope optometry," she says. Dr. Atencio recently invested in an OCT, and they hope to add fundus photography by next year to offer more medical eye care services. "I don't think people realize we are a one-stop shop" that can offer much more than eyeglasses and contact lenses. She looks forward to connecting with the local schools to spread the word about all the capabilities they will have to offer, as she hopes to introduce more myopia management into her schedule.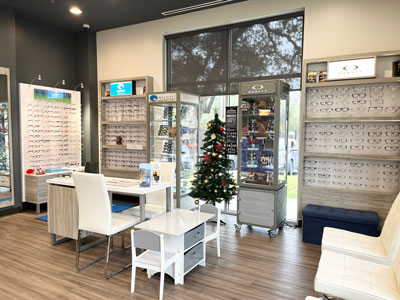 The biggest hiccup they hit was not being able to start the insurance credentialing process until they were officially owners, and that process can take some time. They started as private pay only, and Dr. Atencio says that the patients were understanding. Those who chose to come in will receive a discount, and others are opting to wait and will come in once their insurance is accepted. "We have had a few families reschedule for the end of the year. They are willing to wait versus going somewhere else." Now, they are on some major medical plans and still waiting on some vision insurances.
Dr. Atencio is holding down the fort as the solo doctor at Lookout Eye Care, and her husband is still employed with an optometry and ophthalmology group where he plans to work at least another year until the patient base grows.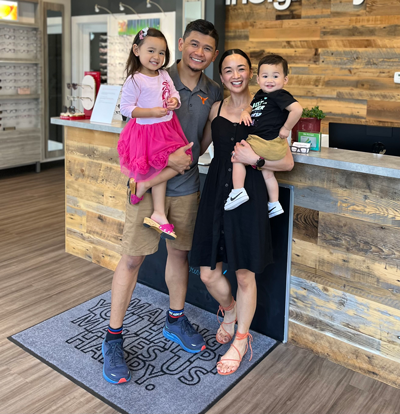 For now, her youngest family members—her daughter and son—are enjoying their time in the office after pre-K and daycare. Dr. Atencio says that her daughter knows all about the clinic and always wants to join her there to "help people see." The opportunity to be an owner has offered balance, and Dr. Atencio says that they are being very intentional about the way they spend their time. While the kids do come to the office, there's also time set aside for family only or business only.
"We've been very fortunate that most patients have been very receptive of the change in ownership," Dr. Atencio says. "It's been such a rewarding experience so far these last six months and I am definitely learning something new everyday. We'll see what this new year brings!"